Weekend reading: Another disappointing Jobs Day edition
This is a post we publish each Friday with links to articles that touch on economic inequality and growth. The first section is a round-up of what Equitable Growth published this week and the second is relevant and interesting articles we're highlighting from elsewhere. We won't be the first to share these articles, but we hope by taking a look back at the whole week, we can put them in context.
Equitable Growth round-up
The U.S. Bureau of Labor Statistics released data on employment and the U.S. labor force in September today, revealing only 194,000 jobs were added to the struggling job market recovery. Carmen Sanchez Cumming and Kathryn Zickuhr detail the implications of the still uneven employment recovery for women of color, focusing in particular on U.S. care workers. This sector provides health, education, and social services to workers, families, and communities—services that took it on the chin anew with the surge the delta variant of the coronavirus. Then there are the longstanding challenges for workers in the care sector of the U.S. economy, including low pay and lack of paid leave, that pre-date the pandemic. The co-authors explain that because women in general and women of color in particular are overrepresented in care occupations, care work is undervalued and thus is both a driver and a reflection of racial and gender economic inequality and now a drag on a broadly shared economic recovery.
Ahead of this week's EconCon 2021 session on redefining economic measurement, Austin Clemens put together a list of resources for those interested in advancing new methods of tracking how the economy is working for all Americans. The list covers Equitable Growth's work on GDP 2.0—our project on the value of disaggregating Gross Domestic Product data by income—as well as why policymakers should work to disaggregate data along race and ethnicity lines to better understand the role and impact of systemic racism in the United States.
Check out Brad DeLong's latest Worthy Reads column for his takes on must-read content from Equitable Growth and around the web.
Links from around the web
As eviction moratoriums lapse in states across the United States, millions of families face losing their homes. This crisis is worse for Black families, writes USA Today's Jessica Guynn in a feature appearing on yahoo!finance, thanks in part to historical systemic racism that has prevented many of these families from becoming homeowners and building wealth. As rents rise and available housing options become scarce, fears of eviction are rising, with Black households more likely to be behind on rent payments and facing higher unemployment rates, and thus more likely to be displaced. Guynn details the implications for exacerbating existing inequality and racial disparities in the United States as well as the difficulties many families have had in accessing federal rental assistance programs during the pandemic.
The U.S. employment situation and economic recovery is also disproportionately more difficult for Black workers, with rates of joblessness still much higher for Black workers than their peers. This is not a new phenomenon and hardly surprising to many economists, reports NBC News' Bracey Harris, but it has gotten worse amid the pandemic. The persistence of these disparities has led to questions about whether racial bias and discrimination as well as occupational segregation are playing a role. Many Black workers are in occupations and industries in which working from home is not an option and in which minimum wages and unpredictability are common. Harris tells the story of two Black women in Mississippi who lost their jobs during the pandemic and how they have experienced the labor market recovery.
Friday figure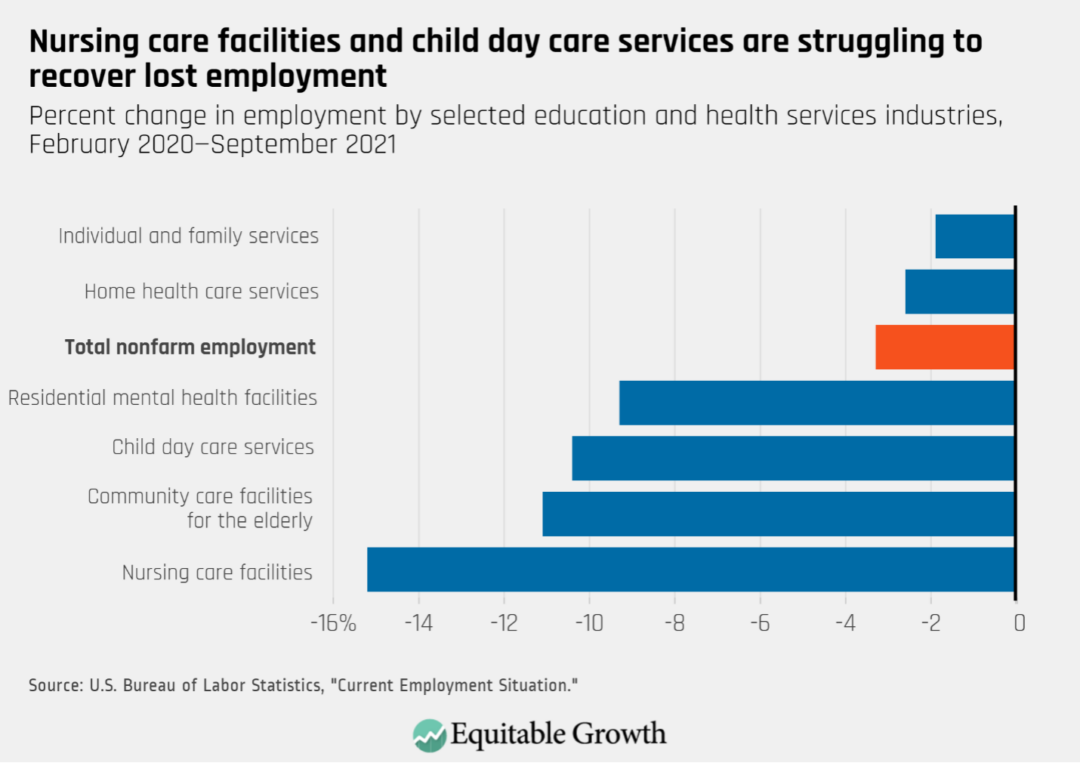 Figure is from "Problems in the U.S. care sectors risk holding back the economic recovery amid another month of disappointing job gains," by Carmen Sanchez Cumming and Kathryn Zickuhr.