Weekend reading: "June jobs day" edition
This is a weekly post we publish on Fridays with links to articles that touch on economic inequality and growth. The first section is a round-up of what Equitable Growth has published this week and the second is work we're highlighting from elsewhere. We won't be the first to share these articles, but we hope by taking a look back at the whole week, we can put them in context. 
Equitable Growth round-up
Equitable Growth released its latest round of working papers on Tuesday, with this round focused on the connections between economic and political inequality. The papers cover a number of topics including the shortage of working class political candidates, how inequality influences which topics become major social concerns, the amount of "bias" in economic issues that the U.S. Congress addresses, the relationship between public opinion and tax progressivity, and how school experiences shape political inequality.
Kavya Vaghul discusses many of these papers as well as other related research and argues that a loop effect between economic and political inequality is hindering efforts to implement policies that will create more equitable economic growth.
David Howell, an economist at the New School and a 2014 Equitable Growth grantee, argues that the current debate about minimum wages in the United States is done a disservice by the focus on the ensuring the minimum wage doesn't decrease employment.
What's the best path to getting more innovation: getting more out of current innovators or creating more innovators? A new study shows that changes to education and inequality could help boost the number of new innovators in the United States.
Well-diversified mutual funds are great for the investors in the funds. But a line of recent research argues they've caused problems for competition in the U.S. economy. A new paper looks at how mutual funds have may be partially responsible for higher CEO pay.
The Bureau of Labor Statistics released new data on the state of the labor market in June. Equitable Growth staff highlight a few key graphs using data from today's release.
Links from around the web
Employment growth for workers without any college education since the end of the Great Recession in mid-2009 has been all but nonexistent as a share of all job growth. Is this because there is less demand for this workers? Ernie Tedeschi argues that changes in supply due to demographic changes explain a lot of this trend. [medium]
"It's hard to know whom you can trust anymore—at least that's the attitude of many Americans today. Therein lies a crucial challenge for the world's largest economy." Betsey Stevenson argues policy in the United States should work to restore trust to help economic performance. [bloomberg view]
"You don't want rules made entirely for people that have something, at the expense of people who don't." Conor Dougherty writes about how zoning laws are forces for higher inequality and lower economic growth in the United States. [nyt]
This week the yield on a 10-year U.S. Treasury bond fell to an all-time low. Matt O'Brien puts this development into context as long-term bond yields are so low—negative even—for so many high-income countries. [wonkblog]
Paul Krugman reviews a new book by Mervyn King, the former Governor of the Bank of England. The former central banker focuses less on his time at the helm of the bank during the financial crisis and more on the evolution of the field of economics, to varying effects. [new york review of books]
Friday figure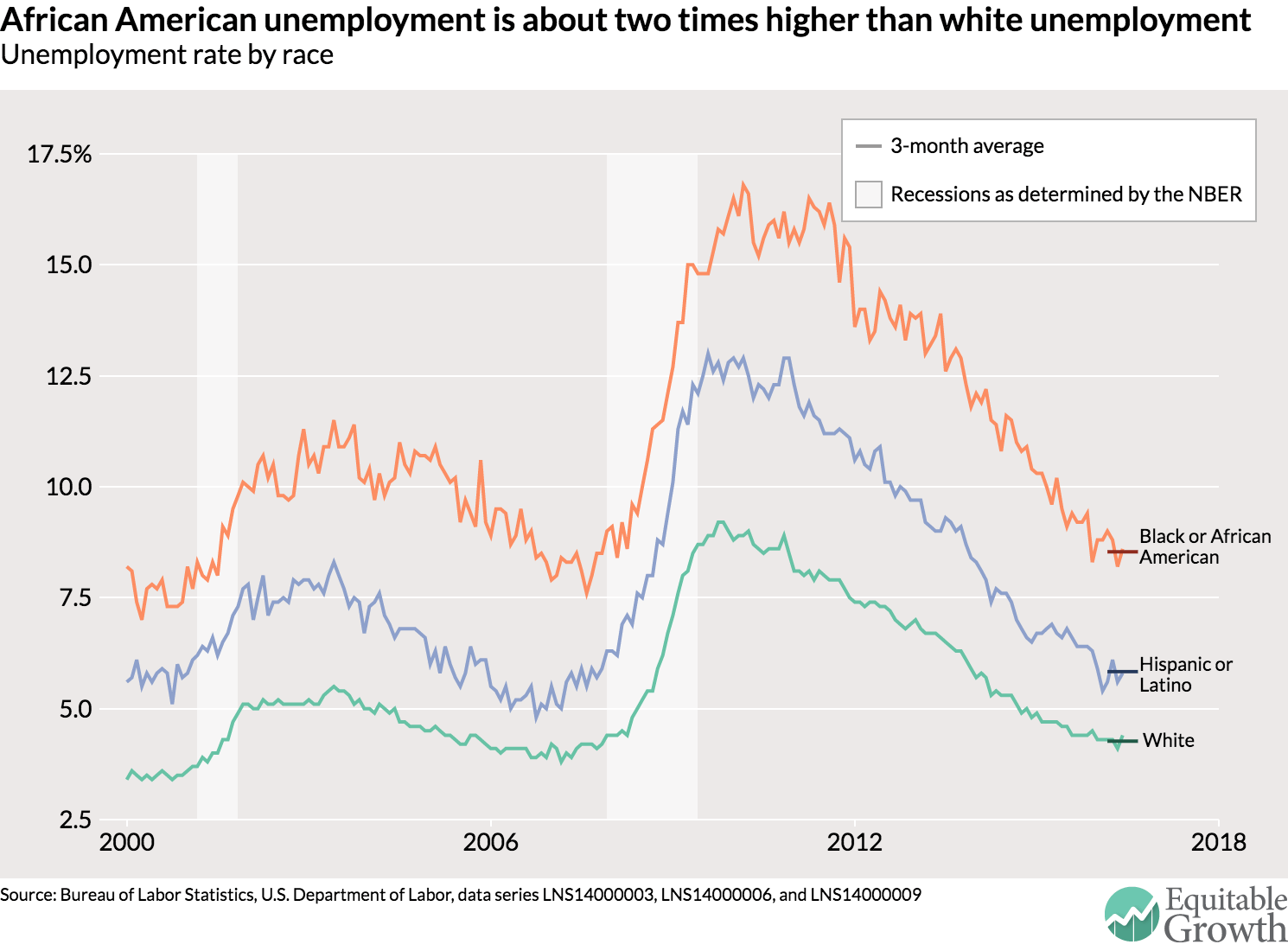 Figure from "Equitable Growth's Jobs Day Graphs: June 2016 Report Edition" by Equitable Growth staff