Weekend reading: "Jobs and the Holidays" edition
This is a weekly post we publish on Fridays with links to articles that touch on economic inequality and growth. The first section is a round-up of what Equitable Growth published this week and the second is the work we're highlighting from elsewhere. We won't be the first to share these articles, but we hope by taking a look back at the whole week, we can put them in context.
Equitable Growth round-up
New research reveals that workers who receive low pay, have unstable working schedules, and are offered few fringe benefits also experience a lower propensity to marry. Alix Gould-Werth explains that while existing research shows that, among older men, higher earnings are a predictor of marriage, workers with poor quality jobs—regardless of pay—are less likely to get married when compared to their counterparts with adequate job quality.
A recent report by the Congressional Budget Office finds that there has been significant growth in income inequality since 1979, with the CBO inferring that growing inequality has disproportionately affected the middle class. Austin Clemens argues for a more careful interpretation of the CBO report, especially in the way taxes and transfers impact income distribution, in order to create a more accurate metric to measure growing inequality.
Brad DeLong compiles his most recent worthy reads on equitable growth both from Equitable Growth and outside press and academics.
Kate Bahn discusses the research that addresses the effects of increasing the U.S. minimum wage, particularly how the research shows that there are very few negative economic effects on employment. Instead, when looking at earning trajectories of workers earning the minimum wage, economists find that the gains are greatest among the bottom of the quartile for up to five years after a minimum wage increase.
On November 2, we lost Harvard University sociologist and Equitable Growth grantee Devah Pager to cancer. Pager played a pivotal role in highlighting race-based hiring discrimination by finding that white men with a criminal record have a greater probability of achieving employment compared to black men without a record. Equitable Growth is proud we had the opportunity to support Pager and send our thoughts to those who are grieving her loss.
Links from around the web
Homeownership has traditionally been the sole opportunity for low- and middle-class Americans to accumulate wealth, yet institutional racism within federal housing policy has made it difficult for African-American households to grow that wealth, invest in businesses, and even attend college, says a new report from The Brookings Institute. It finds that the devaluation of black homeownership has led to an average of $48,000 in lost value of homes in black communities due to racial biases. This report shows that even though the practice of racial housing policies, such as redlining, are now illegal, there are still strong biases in the real estate market that make it difficult for members of black communities to experience mobility. [brookings]
A final farm bill backed by House Republicans no longer includes work requirements for recipients of supplemental nutrition assistance who have children over the age of six. Attaching work requirements to this federal program would have affected between 800,000 and 1.1 million American households—especially households living in regions with relatively stagnated employment growth. [wapo]
The Institute for Women's Policy Research released a new report regarding the current status of gender wage inequality in the United States. They find that when measuring total earnings across 15 years, data shows that women earn 49 percent of men's earnings. The report examines the penalties and inequalities women face in the labor market and what policies can help alleviate this economic burden. [iwpr]
Small companies are increasingly not going public on U.S. stock markets because they are often persuaded by venture capital firms to stay private or are bought out by a large organization—contributing to decreasing entrepreneurship and competition in the business-creation field. Early-stage buy-outs contribute to slow wage growth and innovation. Increasing the number of small businesses in public stock markets can increase productivity and provide higher-quality goods and services available to consumers. [nyt]
New data from the Center for Disease Control and Prevention shows that average life expectancy in the United States has dropped for the third year in a row. When dissecting their data, the CDC found that poor and middle-class Americans die earlier than wealthy individuals. This gap may continue to grow as healthcare policy changes in the future make it difficult for low and middle-class households to afford adequate healthcare. This Vox report referenced both the CDC's work and former Equitable Growth Steering Committee member Raj Chetty's work analyzing income data and mortality data to from 2001-2014, which found that the wealthiest Americans gained five years of longevity, and poor and middle class Americans saw no change in their mortality. [vox]
Friday Figure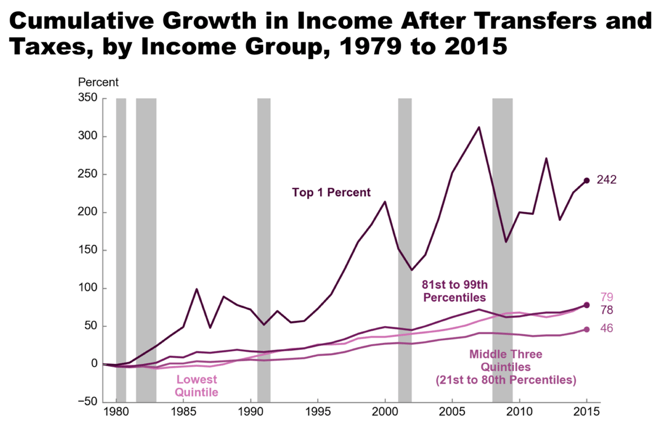 Figure is from Equitable Growth's, "U.S. income growth has been stagnant. To what degree depends on how you measure it."