Weekend reading: Equitable Growth's 2020 Request for Proposals edition
This is a post we publish each Friday with links to articles that touch on economic inequality and growth. The first section is a round-up of what Equitable Growth published this week and the second is relevant and interesting articles we're highlighting from elsewhere. We won't be the first to share these articles, but we hope by taking a look back at the whole week, we can put them in context.
Equitable Growth round-up
Equitable Growth released our 2020 Request for Proposals this week, kicking off the next cycle of our academic grants program. We are looking for proposals that investigate the link between economic inequality and individuals' economic outcomes and well-being, poverty and mobility from poverty, the macroeconomy, and sustainability. We are particularly interested in dimensions of inequality, including race, ethnicity, gender, and place, as well as the ways in which public polices affect the relationship between inequality and growth. For more information, eligibility requirements, deadlines, and more, visit our 2020 RFP website.
This year, Equitable Growth also released a 2020 Request for Proposals on Paid Family and Medical Leave specifically. We are seeking proposals in this category that advance the evidence on how paid leave affects engines of economic growth such as labor force participation, the development of human capital, consumption, and macroeconomic stability. For more details, eligibility requirements, deadlines, and more, visit our 2020 RFP for Paid Family and Medical Leave website.
While many of us have been following the Varsity Blues college admissions scandal—in which wealthy celebrities paid various bribes to get their children into elite colleges—the bigger scandal ought to be the completely legal way that wealth buys access to these institutions: through expensive tutors and college prep courses, financial contributions to universities, and legacy preferences, to name a few, writes David Mitchell. Research shows that many of these mechanisms reinforce the unequal status quo, allowing rich students to get into elite colleges and universities, and restricting access for bright and talented low-income students to the very opportunities that could help them improve their economic outcomes in adult life. Mitchell details the various ways elite colleges give wealthy students advantages, how this affects the student bodies at these institutions, and concludes with some of the policy solutions that have been put forward to address these issues.
The U.S. Bureau of Labor Statistics late last week issued its monthly report on the U.S. labor market for October. The employment rate for prime-age workers is continuing its upward trend, but black and Hispanic unemployment rates remain higher than those of white workers, as do employment rates in service-sector jobs (as opposed to manufacturing and construction). The data also show that the share of unemployed workers re-entering the labor market has been declining for the past six months. Raksha Kopparam put together five graphs highlighting these important trends in the monthly announcement.
The U.S. Bureau of Labor Statistics also released the September data from the Job Openings and Labor Turnover Survey, or JOLTS. Kopparam and Austin Clemens produced four graphs using the data, which demonstrate that while the job opening rate has declined slightly, the number of hires made per job opening appears to be trending upward and the quits rate has remained steady for more than a year.
Links from around the web
This month's jobs report continues to show decreasing unemployment and more jobs being created in the U.S. economy. But, write Arne Kalleberg and David Howell for Business Insider, there's more to the story than meets the eye. While job quantity may be rising, job quality has been steadily decreasing for the past 40 years. In other words, U.S. workers may be employed, but many are working in jobs that pay less and are less able to provide a decent standard of living—especially for young, less-educated workers. Kallenberg and Howell suggest two main courses of action to reverse this decades-long trend—resetting corporate norms to protect workers over profits and giving workers more power at work by passing state and federal labor laws.
New research shows the prices of products that the bottom income quintile buys have increased faster than the prices of products the top income quintile purchases, leading low-income families to experience an annual rate of inflation that is almost 0.5 percentage points higher than that of wealthy families, writes Annie Lowrey for The Atlantic. And income inequality is exacerbating this inflation inequality: Richer people have more and more disposable income, which incentivizes retailers to cater to higher-end clients, increasing the number of these retailers, leading to more competition for those consumers, more product innovation and product choice for those consumers, and lower prices for the goods those consumers purchase. Unfortunately, the same cannot be said for retailers of products that low-income Americans tend to purchase.
Amit Kapoor and Bibek Debroy argue that it is "time to acknowledge the limitations of GDP and expand our measure of development so that it takes into account a society's quality of life." In the Harvard Business Review, the two look at India as an example, where they are working with the government to develop a so-called Ease of Living Index to measure quality of life, economic ability, and sustainability as a complement to GDP to provide a more comprehensive view.
Many families in the United States today face an unfathomable choice: taking care of unwell family members or retaining a meaningful, well-paid job. Kristina Brown, a fourth-year medical student, describes her family's own experience with this impossible choice in The Washington Post: "Like many families, we could not afford full-time coverage. This posed a life-altering dilemma: One of us had to stay home to care for [our mother]." Brown continues to describe the setbacks she and her sister will almost inevitably face as a result of their difficult situation and the lack of resources and support available to people like them: "Caregiving fuels generational poverty, disproportionately affecting millennials and women who take on that role in their families."
Friday Figure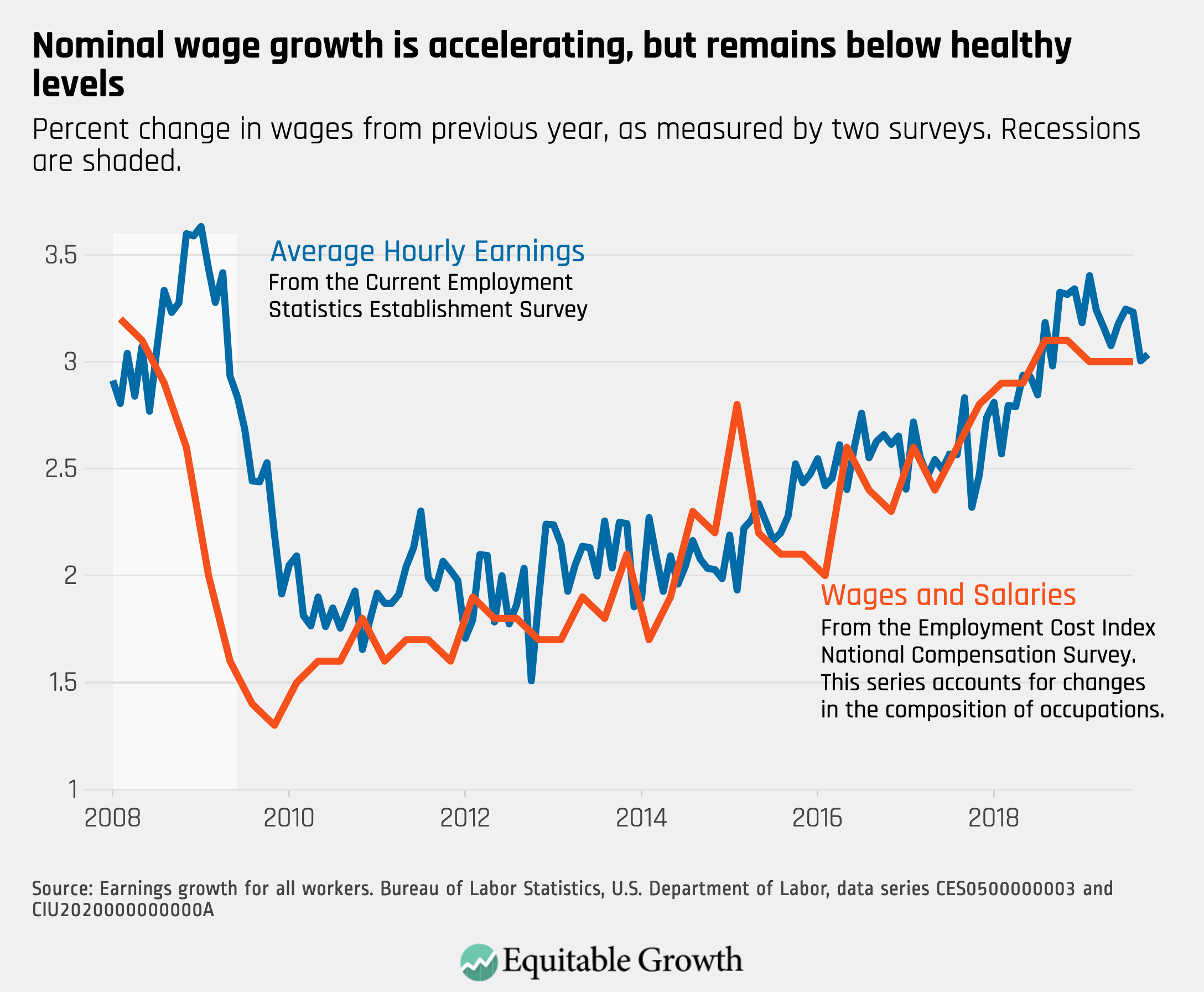 Figure is from "Equitable Growth's Jobs Day Graphs: October 2019 Report Edition" by Raksha Kopparam.