Weekend reading: Addressing racial gaps across the economy edition
This is a post we publish each Friday with links to articles that touch on economic inequality and growth. The first section is a round-up of what Equitable Growth published this week and the second is relevant and interesting articles we're highlighting from elsewhere. We won't be the first to share these articles, but we hope by taking a look back at the whole week, we can put them in context.
Equitable Growth round-up
A new Equitable Growth working paper looks at job displacement—a form of job loss reflecting economic structural changes rather than individual job performance—and its disparities by race over the past 40 years in the United States. The study, Kate Bahn explains in a blog post on the research, is the first academic study of black-white disparities in displacement since the 1990s. Though the researchers find that job displacement has been common for all workers over the past four decades, it also finds that it was more common for African Americans and find that these racial disparities persist even when controlling for whether a worker has a college degree. "When job displacement is so unequal by race," Bahn concludes, "policy and the U.S. labor market can provide tools and power to push back against the trends found in this new research … which buttresses previous evidence-based findings."
In a cross-posted article—originally published last year in Generations, a journal of the American Society on Aging—Bahn shows how monopsony affects older women workers, and how this group may be subject to a disproportionate amount of monopsony power, compared to other demographic groups. This, she writes, is because women generally have more care responsibilities, making it harder for them to find jobs, and because monopsony tends to be more prevalent in female-dominated sectors such as teaching and nursing. Bahn reviews research showing that age discrimination also disproportionately affects women, and concludes with several bold policy suggestions for leveling out the playing field, including updating retirement policies, eliminating sex discrimination in labor market decisions, and providing adequate caregiving supports.
Every month, the U.S. Bureau of Labor Statistics releases data on hiring, firing, and other labor market flows from the Job Openings and Labor Turnover Survey, better known as JOLTS. This week, the BLS released the latest data for December 2019, showing that the quits rate remained relatively steady and the ratio of hires per job opening increased due to the decline in job openings. Raksha Kopparam and Bahn put together four graphics to illustrate these and other trends in the data.
Equitable Growth has a new policy director Amanda Fischer joins us from Capitol Hill, after serving most recently as chief of staff for Rep. Katie Porter (D-CA), and will lead the development of our policy priorities in order to ensure Equitable Growth's position as the go-to organization for those looking to understand the impact of rising inequality and what can be done about it.
Links from around the web
There is a wide wealth gap between black and white Americans that has persisted despite other racial equality gains that occurred over the past half-century, write Darrick Hamilton and Trevon Logan in Fast Company. Wealth is not just a marker of success in the United States, Hamilton and Logan opine, but it also provides independence and economic security to those who have it. They look at how the legacy of slavery and the years after the Civil War blocked African Americans' access to wealth, before turning to the effects of racial discrimination in housing and education. And though people of color in the United States have achieved great gains in closing the racial education gap, the racial wealth gap remains—and even grows wider at higher levels of education, leading the authors to conclude that "education alone cannot address the centuries-long exclusion of blacks from the benefits of wealth-generating policies and the extraction of whatever wealth they may have." The authors then call for a comprehensive reparations program to acknowledge and being to compensate for these grievances.
Maryland is considering a proposal that would fundamentally change how public education is funded to lower the dependency on property taxes. The current system, writes Craig Torres for Bloomberg Businessweek, contributes to and perpetuates inequality through a cycle of lower-income students attending underfunded schools, which produce low-income adults. But the $4 billion proposal in Maryland would increase spending on education by state and local authorities, with proposals such as a full-day system of pre-Kindergarten for 3-year-olds, more family support centers, better counseling and health services for students in high-poverty schools, and higher pay for teachers. The proposal hopes to improve educational outcomes—and, subsequently, better social and economic outcomes—for all the state's children.
A new study indicates that there is a 70 percent chance that a recession will occur in the next six months, reports Pippa Stevens for CNBC. The researchers behind the study "created an index comprised of four factors and then used the "Mahalanobis distance"—a measure initially used to analyze human skulls—to determine how current market conditions compare to prior recessions." (Yes, you read that correctly—human skulls.) This measure typically looks at the distance between a point and a certain distribution, Stevens writes, which researchers use to analyze industrial production, nonfarm payrolls, stockmarket returns, and the slope of the yield curve, comparing each to their historical readings. The index is allegedly a reliable indicator of recessions going back to 1916.
The latest merger to be approved—that of T-Mobile US, Inc. and Sprint Corp.—would unite the nation's third- and fourth-largest wireless carriers and create a telecommunications giant with around 100 million customers. Edmund Lee delves into the union in The New York Times, providing context and the history behind it, as well as its place in the recent wave of mergers that "have reshaped the American business landscape." While several steps remain before the merger is finalized, the clearance by a federal judge this week was a huge victory for its proponents and a major blow to its opponents.
Friday Figure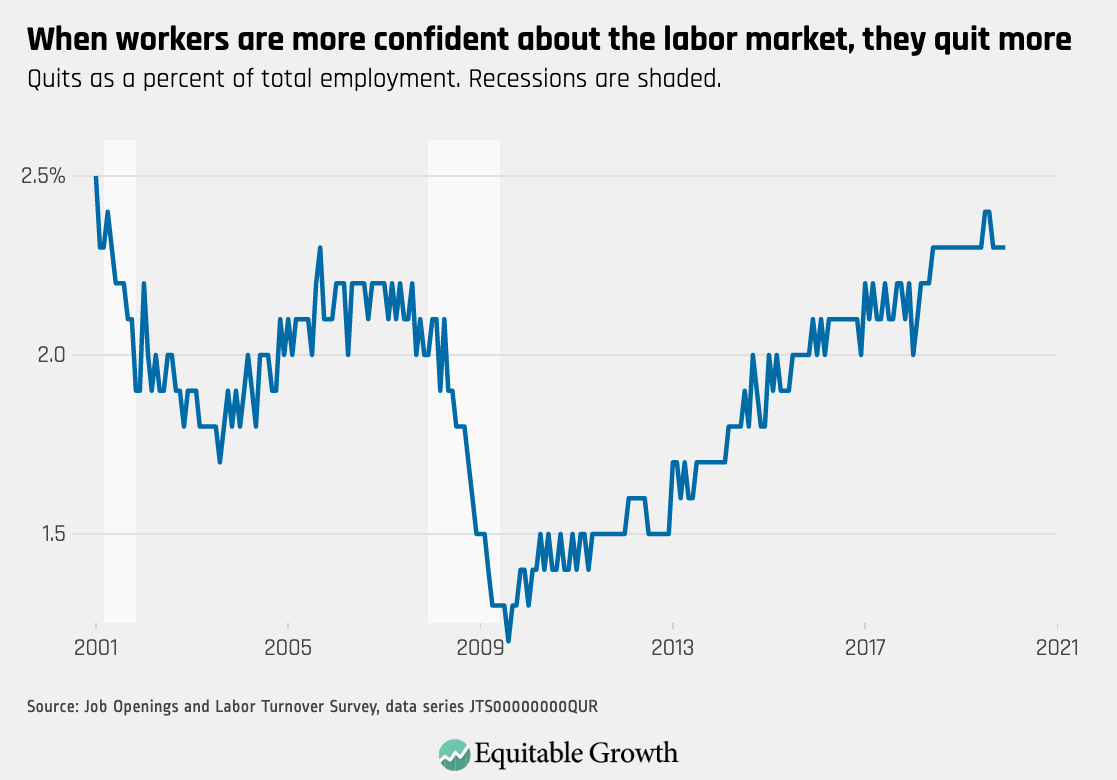 Figure is from Equitable Growth's "JOLTS Day Graphs: December 2019 Report Edition" by Raksha Kopparam and Kate Bahn.