Weekend reading: "You've contracted out your reading links" edition
This is a weekly post we publish on Fridays with links to articles that touch on economic inequality and growth. The first section is a round-up of what Equitable Growth published this week and the second is the work we're highlighting from elsewhere. We won't be the first to share these articles, but we hope by taking a look back at the whole week, we can put them in context.
Equitable Growth round-up
In response to the Great Recession and the resulting weak job market, U.S. policymakers expanded the duration of unemployment insurance benefits many times. How much of an effect on employment did it have? Not much, according to a new paper.
This year's Nobel Prize in economics was awarded to economists Oliver Hart of Harvard University and Bengt Holmström of the Massachusetts Institute of Technology for their work on the theory of contracts.
How much bigger can the U.S. labor force get? It's one of the key questions for the U.S. economy these days. In thinking about it, policymakers need to understand that just because part of trend is structural doesn't mean it's immutable.
Links from around the web
"But what if it turns out that America isn't as entrepreneurial as our leaders like to believe? And that the smaller U.S. safety net, which reflects a national belief in self-reliance, is one reason?" Danny Vinik at Politico writes about the role of downside risk in boost entrepreneurship. [the agenda]
Times should be sweet for pastry chefs as demand for their services have increased quite a bit in recent years. But wage growth hasn't been that strong. Noam Scheiber takes a look at this particular labor market to see if it explains the broader trends in the U.S. labor market. [ny times]
Evidently one member of the Federal Open Markets Committee thinks low interest rates will make pension funds save more and thus reduce future economic growth. Alexandra Scaggs shows that this fear isn't coming true. [ft alphaville]
"The rising share of income accruing to housing is a key feature of the changing U.S. income distribution," writes Gianni La Cava of the Reserve Bank of Australia. "The rise occurred due to an increasing share of income accruing to owner-occupiers through imputed rent [and] it is concentrated in states that are constrained in terms of new housing supply." La Cava writes up his research on this question and the connection to secular stagnation. [vox eu]
The drop in the value of pound sterling in foreign exchange markets has some observers thinking the currency depreciation will help rebalance the U.K. economy. Frances Coppola doesn't find this argument very convincing, arguing that if not paired with policy reforms the "sterling's fall will simply herald the dawning of a poorer, meaner future for Britain." [coppola comment]
Friday figure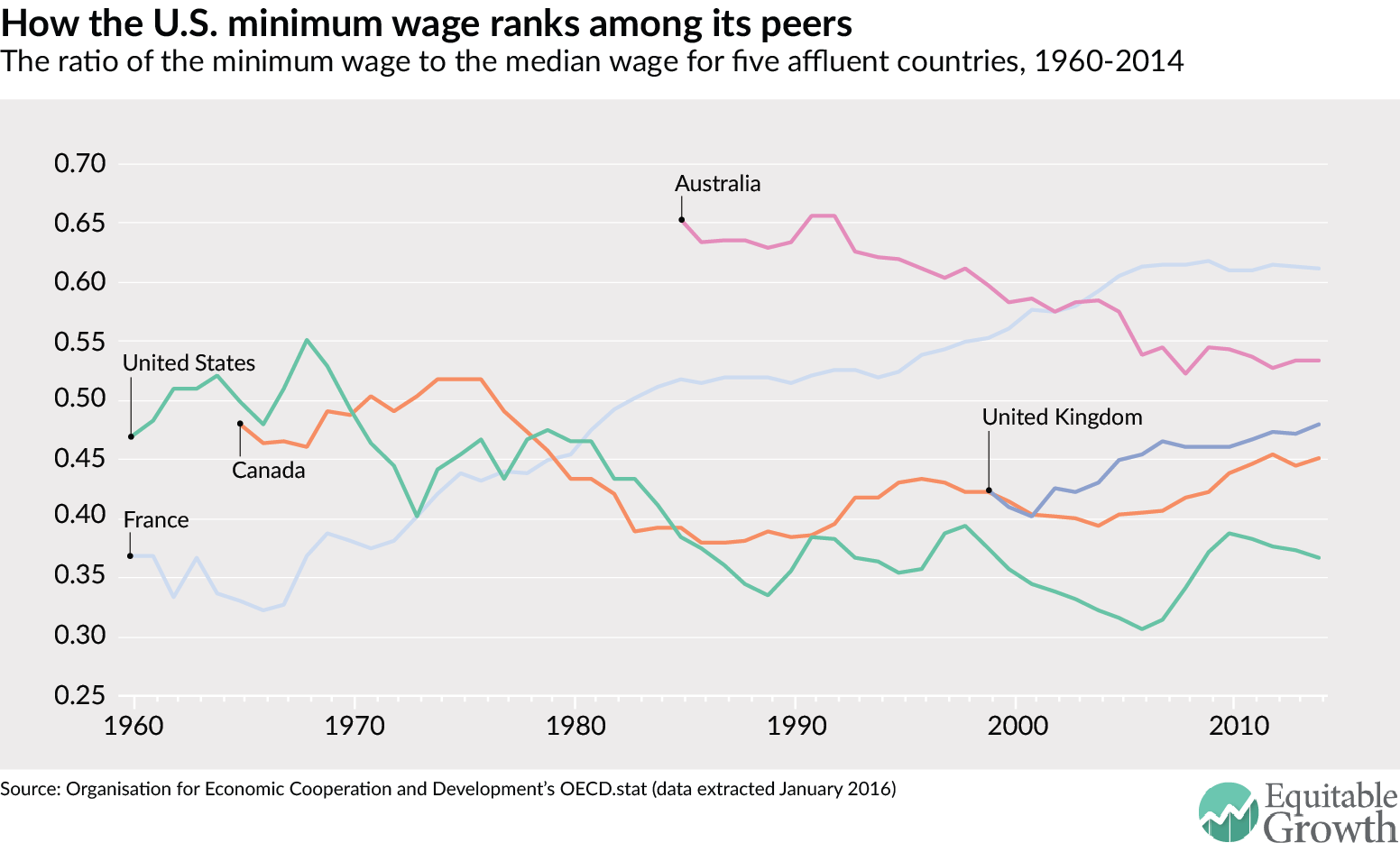 Figure from "The employment effects of a much higher U.S. federal minimum wage: Lessons from other rich countries" by David Howell