Weekend reading: "Workers deserve higher wages" edition
This is a weekly post we publish on Fridays with links to articles that touch on economic inequality and growth. The first section is a round-up of what Equitable Growth published this week and the second is the work we're highlighting from elsewhere. We won't be the first to share these articles, but we hope by taking a look back at the whole week, we can put them in context.
Equitable Growth round-up
This week, Equitable Growth economist Kate Bahn and computational social scientist Austin Clemens published their monthly analysis of the Job Openings and Labor Turnover Survey data released by the U.S. Bureau of Labor Statistics. The JOLTS data reflects a strengthened labor market characterized by elevated quit rates, fewer unemployed workers per job vacancy, and fewer hires per job opening.
University of California, Berkeley economist and Equitable Growth guest blogger Brad Delong highlighted recent research and writing on labor markets and other topics in macroeconomics in his weekly reads column. In addition to elevating Equitable Growth's upcoming event next week on "Building a New Consensus on Antitrust Reform," he points readers to Sarah Jane Glynn's report on gender wage inequality for Equitable Growth and empirical evidence from Harald Dale-Olsen on the positive impact of unions on regional productivity.
Yesterday, Korin Davis, our Academic Programs Director, discussed the launch of our sixth Request for Proposals for Equitable Growth's grantmaking program. On top of explaining how Equitable Growth develops the RFP with the advice of our staff, Steering Committee, and Research Advisory Board, she highlights some of the topics of research funded by Equitable Growth over our past five years of grantmaking.
Links from around the web
Whitney Filloon at Eater digs into a recent quote from the CEO of fast-food giant The Wendy's Company, confirming the negative effects of low wages on aggregate demand and thus overall economic growth. On the company's quarterly earnings call, the CEO argued that low wage growth for working and middle-class Americans has hurt sales for the company. In addition to reviewing some statistics on the relatively low wages of workers in the fast food industry, Filloon points out recent efforts of groups such as Fight for $15 to raise wages for this group of workers—including at Wendy's.
At Bloomberg, Michelle Jamrisko and Dan Murtaugh unpack a speech by former Federal Reserve Chair and current Equitable Growth Steering Committee member Janet Yellen at the New Economy Forum in Singapore. In her speech, Yellen argued that while the monetary policy role of central banks may be more limited than fiscal policy in fighting inequality, central banks can nevertheless help alleviate inequality by securing full employment for low-income workers across racial groups and maintaining post-crisis financial regulations, which reduce the likelihood of another economic downturn with disproportionate impacts on low-income workers.
David Leonhardt of The New York Times looks into the research on another negative effect of inequality: ethnic division. In particular, Leonhardt summarizes some of the key findings of a new book by Steven Pearlstein of The Washington Post. Among other topics, Pearlstein's book, Can American Capitalism Survive?, explains how wage stagnation in recent decades for working class Americans across ethnic groups has led to scapegoating, which turns these groups of workers against each other while economic and political forces continue to drive rising inequality.
Gareth Hutchens of The Guardian published a recent interview with Columbia University economist and Nobel laureate Joseph Stiglitz. Hutchens discusses some of the findings of Stiglitz's 2012 book, The Price of Inequality, notably including the disproportionate income gains of the top 1 percent and the top 0.1 percent of income earners compared to the bottom 90 percent over the past 40 years. Hutchens also includes quotes from Stiglitz detailing the negative effects of inequality on economic growth, environmental protection, and democratic institutions.
Friday Figure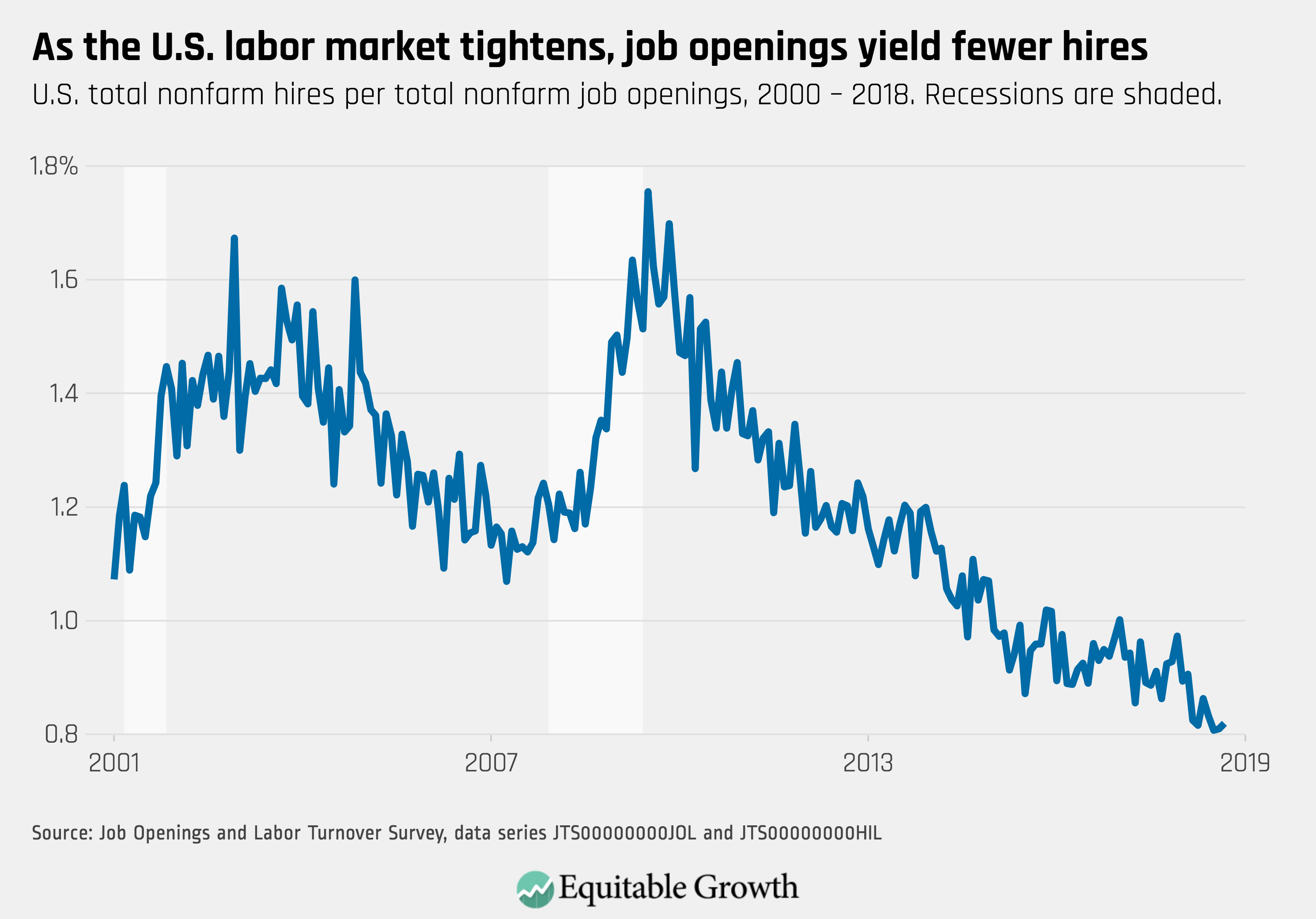 Figure is from Equitable Growth's, "JOLTS Day Graphs: September 2018 Report Edition."