Weekend reading: "Watching the labor market flows go" edition
This is a weekly post we publish on Fridays with links to articles that touch on economic inequality and growth. The first section is a round-up of what Equitable Growth published this week and the second is the work we're highlighting from elsewhere. We won't be the first to share these articles, but we hope by taking a look back at the whole week, we can put them in context.
Equitable Growth round-up
Liz Hipple summarizes some of the key points from a new report by antitrust expert James Kwoka on changes to merger enforcement policy. Relatedly, here are the key takeaways from Gene Kimmelman and Mark Cooper's report on the results of increased concentration in the communications industry.
Monday was African American women's Equal Pay Day, which represents the day that black women must work to in 2017 to make the same amount of money that men (of all races) did in 2016. Nisha Chikhale updates Equitable Growth's interactive wage tool and shows the wide variation in wages across races and gender.
The U.S. Bureau of Labor Statistics released new data on the health of the labor market in July this morning. Here are five key graphs using data from the report, chosen by Equitable Growth staff.
Links from around the web
The savings rate for U.S. households declined over the past two years as income growth was extremely weak. Matthew C. Klein wonders how long U.S. consumers can continue to reduce savings. [ft alphaville]
Have a theory of inflation? It's likely doesn't hold up when you look at Japanese data. Noah Smith argues that Japan is a graveyard for macroeconomic theories. [bloomberg view]
With business concentration and awareness of that increase on the rise, the word "monopoly" is back in the news. Stacy Mitchell looks at the rise and fall of the word "monopoly" when it comes to public discourse in the United States. [the atlantic]
Taking a look at data for the first half of 2017, Elise Gould finds broad-based wage growth occurring because of a tighter labor market and due to higher minimum wages at the state and local level boosting earnings. But there's still work to be done with inequality so high. [epi]
The stark gender difference in how much household work men and women do is fairly well known. Jeanna Smialek highlights new research that shows this difference might be holding down productivity growth. [bloomberg]
Friday figure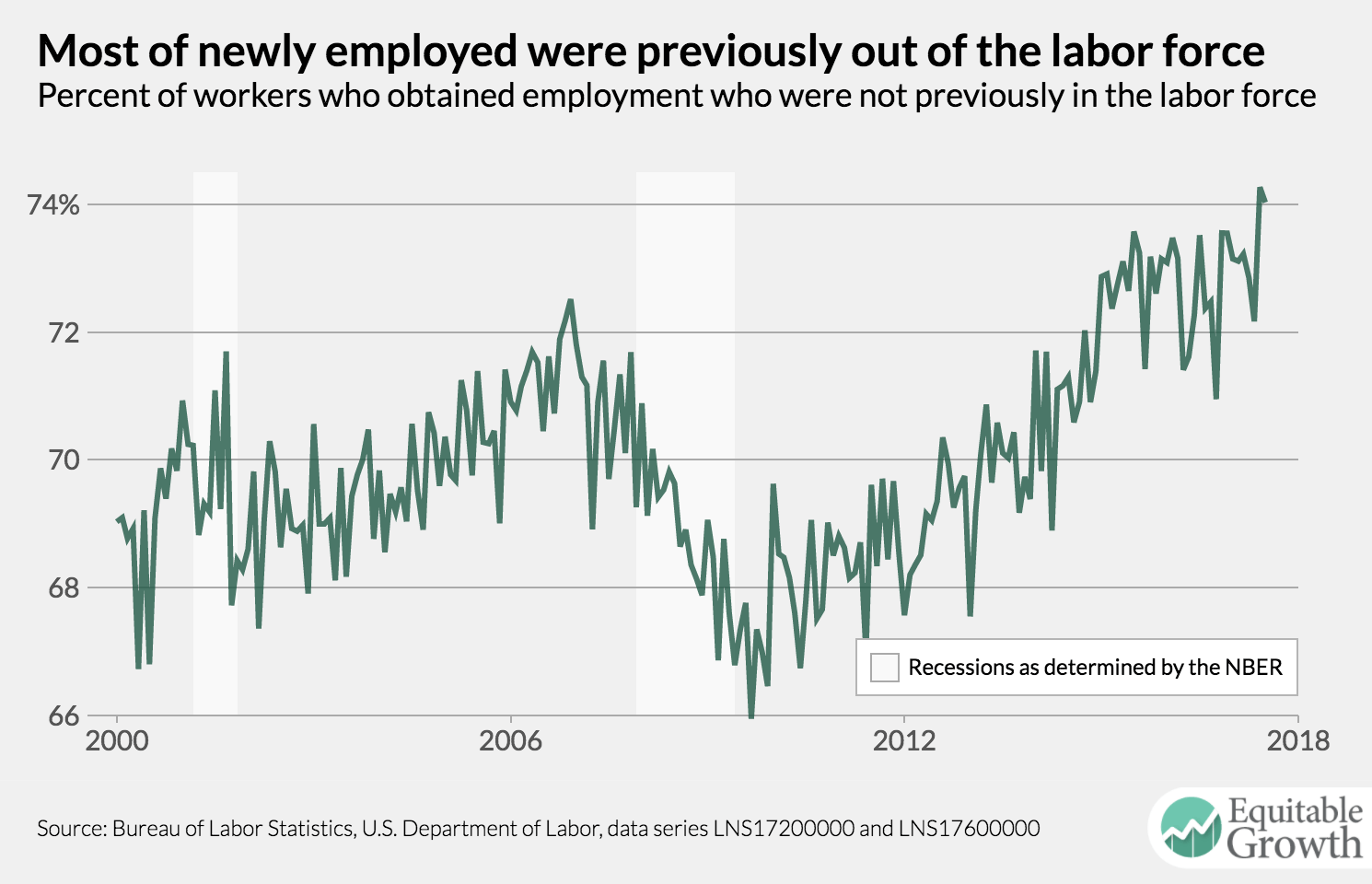 Figure is from "Equitable Growth's Jobs Day Graphs: July 2017 Report Edition"