Weekend reading: "Time to mark this up" edition
This is a weekly post we publish on Fridays with links to articles that touch on economic inequality and growth. The first section is a round-up of what Equitable Growth published this week and the second is the work we're highlighting from elsewhere. We won't be the first to share these articles, but we hope by taking a look back at the whole week, we can put them in context.
Equitable Growth round-up
During the 2016 presidential campaign, then candidate Trump proposed a number of tax provisions to help families pay for childcare. Nisha Chikhale writes up new research showing how those tax benefits would disproportionately flow to high-income households.
Other sections of the tax code are also far from equitable. Using tax data, Chikhale looks at the distributional impact of the deduction for charitable contributions. They too are tilted toward high-income taxpayers.
How much is economic distress contributing to the increase in opioid addiction and abuse in the United States? A new study finds a connection between higher unemployment rates and higher death rates due to opioid abuse.
Earlier this morning the U.S. Department of Labor's Bureau of Labor Statistics released the Employment Situation Report for February. Here's five key graphs from today's report from Equitable Growth staff.
Links from around the web
Women have been slowly entering into traditional male jobs over the years, but a new report shows how men are moving into predominantly female jobs. These moves are, as Claire Cain Miller reports, into low-status jobs. [the upshot]
The "China shock" research on the labor market impacts of increased Chinese imports has gotten a lot of attention in recent years and some critiques in the past few weeks. Soumaya Keynes writes that the shock literature hasn't been debunked, but that some nuances have been added. [the economist]
Why is the labor share of income in the United States declining? The answer may lie with the changes in business concentration. Patricia Cohen looks at new research on the impact of "superstar firms" on concentration and inequality. [nyt]
Continuing a theme of his blog, Dietz Vollrath looks at research on the increase in profits, markups, and corporate savings, showing how these trends could be partially responsible for declining productivity growth. [growth economics]
Are most economists and policymakers missing a positive and important economic story in the United States right now? Derek Thompson argues the uptick in wage growth for low-wage workers in 2016 should be more appreciated. [the atlantic]
Friday figure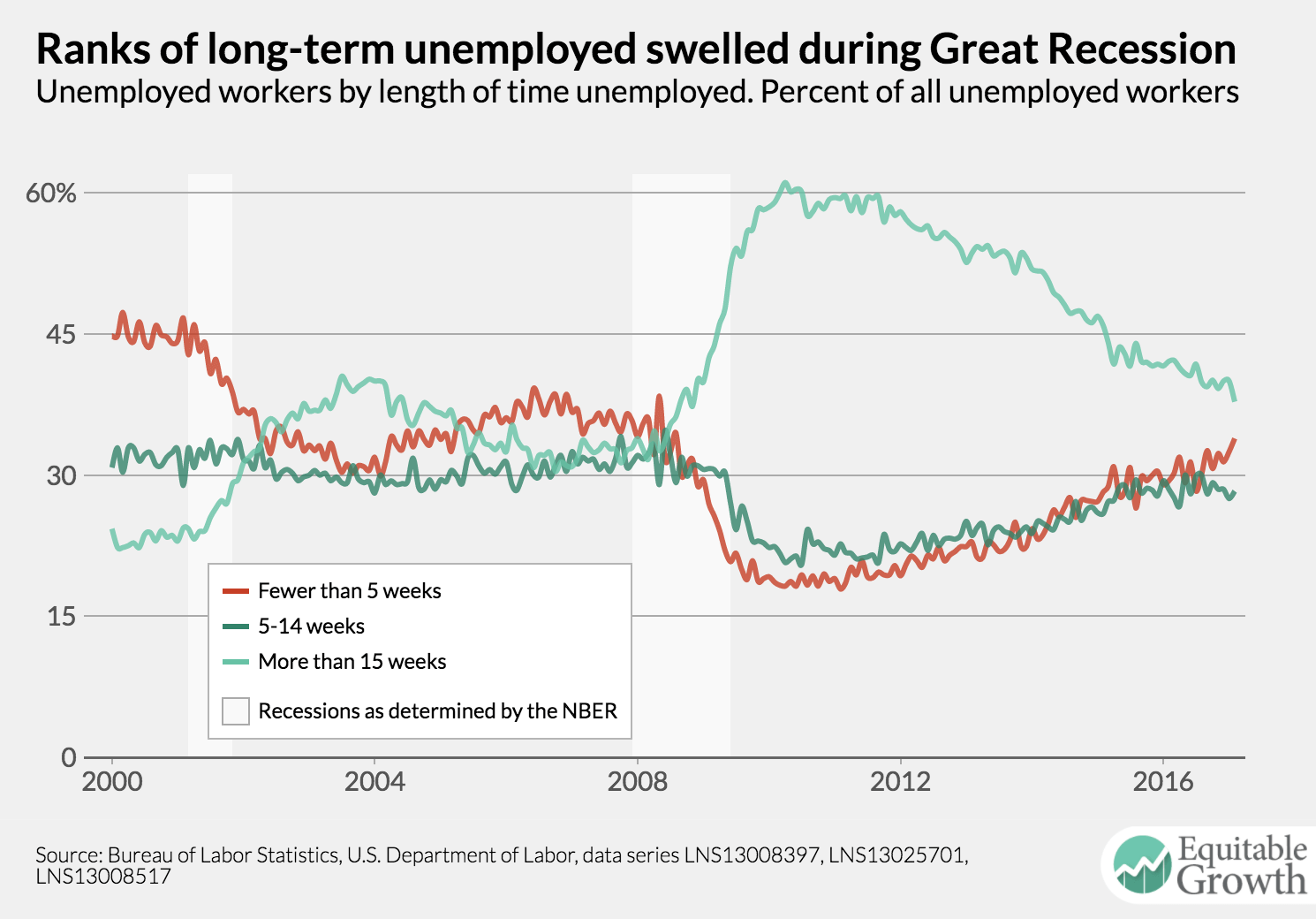 Figure from "Equitable Growth's Jobs Day Graphs: February 2017 Report Edition" by Equitable Growth staff