Weekend reading: "monopsony and March jobs market" edition
This is a weekly post we publish on Fridays with links to articles that touch on economic inequality and growth. The first section is a round-up of what Equitable Growth published this week and the second is the work we're highlighting from elsewhere. We won't be the first to share these articles, but we hope by taking a look back at the whole week, we can put them in context.
Equitable Growth round-up
Wealth taxation is an increasingly popular topic of discussion among policymakers as a way to reduce economic inequality. Yet there's been little empirical research on it. Nisha Chikhale writes about recent research looking at the experience of a Danish wealth tax.
What does a settlement between the National Labor Relations Board and McDonald's tell us about how the labor market works? Kate Bahn discusses how a joint employer standard is necessary in a world with monopsony.
Earlier today the U.S. Bureau of Labor Statistics released new data on the labor market in the month of March. Check out five key graphs chosen by Equitable Growth staff made with the new data.
Links from around the web
The simple "Econ 101" supply and demand theory of the labor market is no longer useful, Noah Smith argues. More and more evidence is showing that employers have considerable power over workers and theories need to reflect that. [bloomberg view]
Speaking of labor market power, Ioana Marinescu of the University of Pennsylvania talks Rob Ferrett about her research on how the declining number of employers is holding down wage growth. [wpr]
Fifty years ago the Kerner Report looked at the systematic inequalities faced by black Americans after the urban riots of the 1960s. Ariel Aberg-Riger took a look at the context for the report and the reaction to it. [citylab]
How do you reduce gender wage inequality? The U.K. government recently required large employers to disclose the gap between average pay for men and women they employ. The Economist notes that this move toward transparency can help reduce gender pay inequality. [the economist]
Looking for a job? U.S. workers who are employed are more likely to end up with an offer with higher wages and benefits than an unemployed worker and also more likely to receive an offer unsolicited. That's according to data from several economists at the Federal Reserve Bank of New York. [Liberty Street Economics]
Friday figure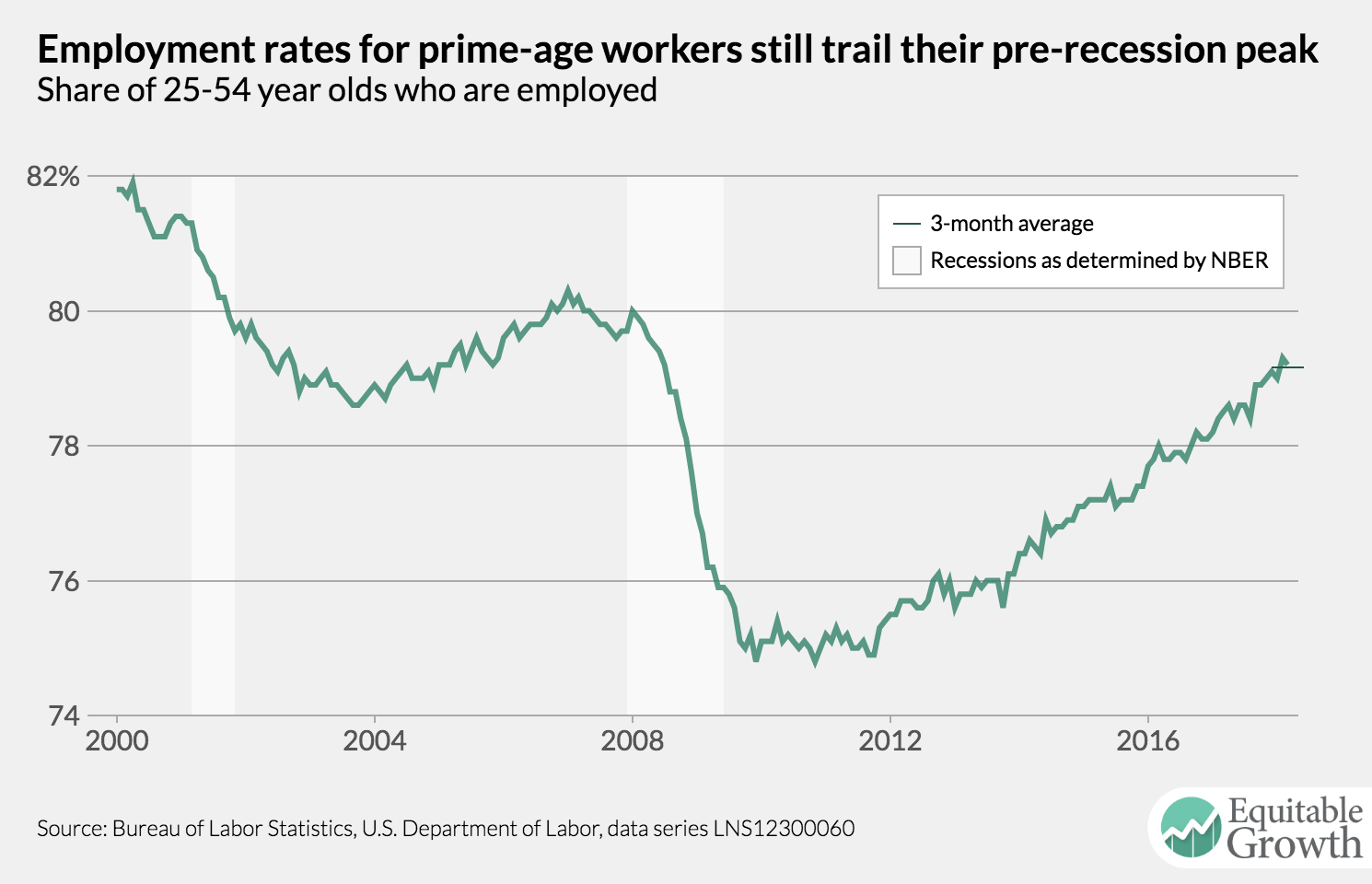 Figure is from "Equitable Growth's Jobs Day Graphs: March 2018 Report Edition"