Weekend reading: "Labor Day" edition
This is a post we publish each Friday with links to articles that touch on economic inequality and growth. The first section is a round-up of what Equitable Growth published this week and the second is relevant and interesting articles we're highlighting from elsewhere. We won't be the first to share these articles, but we hope by taking a look back at the whole week, we can put them in context.
Equitable Growth round-up
This was a big week for Equitable Growth, as we announced our annual round of competitive academic grants for research on the channels by which inequality affects economic growth. The new grants amount to more than $1 million. This is the sixth annual set of grants by the organization, bringing to nearly $5 million the funding Equitable Growth has awarded since its founding in 2013, and the number of scholars at top U.S. universities and colleges receiving grants to nearly 200. "The topics of the funded research are central to addressing the challenges faced by U.S. workers and their families," writes Equitable Growth's Academic Programs Director Korin Davis. "They range from how firms set wages and the power workers have in demanding fair pay, to the economic effects of antitrust enforcement and mergers." Davis describes the 14 grants to academic researchers and the 13 grants to doctoral students here. Descriptions of the grants, as well as grantee biographies, can be found here. Equitable Growth's 2019 Request for Proposals can be found here.
What do workers want? Specifically, what do they want from unions? With union membership having shrunk dramatically, research shows that large numbers of nonunion workers would vote for one if they could. Most will never get the chance under current U.S. laws and enforcement practices. But what if there were an opportunity to rewrite those laws and current practices? Equitable Growth grantee Alex Hertel-Fernandez, in a working paper with his colleagues William Kimball and Thomas Kochan, and in a column explaining the paper, describes the results of a survey of more than 4,000 workers that teases out what workers value most in unions.
Worker strikes for better wages and benefits may be coming back, and they need to if strong wage gains and a fair balance between workers and management are to be restored, writes Equitable Growth Director of Labor Market Policy and economist Kate Bahn in advance of Labor Day. The decline of union membership is a key factor in the stagnant wages of recent decades, and Bahn asserts that strikes are a necessary tool for combating increased monopsony—the ability of firms, rather than competitive forces, to set wages. She provides a brief history of strikes in the United States and points to research by Hertel-Fernandez showing that public attitudes toward strikes improve when people experience strikes in their state and have the opportunity to learn more about the issues workers seek to address.
Brad DeLong's worthy reads, with content from Equitable Growth and elsewhere, are here in time for the Labor Day weekend.
Links from around the web
Taxing wealth is an idea that is gaining greater currency. As The Wall Street Journal reporter Richard Rubin notes, a number of policymakers and presidential candidates are supporting various ideas, and right-of-center think tanks are considering them as well. Equitable Growth is an excellent resource on the subject: This report on net worth taxes by Equitable Growth Director of Tax Policy and chief economist Greg Leiserson, along with Will McGrew and Raksha Kopparam, is especially useful. Rubin describes some key proposals and their potential economic and political benefits and pitfalls.
Employers in the gig economy have been accused of skirting U.S. labor laws by classifying their workers as independent contractors, but Vox's Alexia Fernández Campbell reports on major legislation in California that would significantly limit that practice, and on matching federal legislation. She notes that companies such as Uber Technologies, Inc. and Lyft, Inc. are aggressively lobbying to defeat the bill in California and that it is becoming an issue in the 2020 presidential campaign.
"The rich can't get richer forever, can they?" asks the title of a piece by Liaquat Ahamed in The New Yorker. His answer is, essentially, we'll see. He describes the increasing economic inequality in the United States and elsewhere over the past few decades and summarizes books on the subject by Binyamin Appelbaum and Branko Milanovic. "The enormous influence of the Chicago School helps explain why research into inequality and income distribution was long sidelined in this country," Ahamed writes. But Milanovic and other European economists—including Thomas Piketty, Equitable Growth Steering Committee member Emmanuel Saez, and Equitable Growth grantee Gabriel Zucman, to whom he refers as the French brigade—have "succeeded in focussing public attention on the issue of inequality."
Earlier this year, Equitable Growth teamed with The Brookings Institution's Hamilton Project on a project to help the nation prepare for the next recession. They produced a book, Recession Ready: Fiscal Policies to Stabilize the American Economy, that contains a number of concrete proposals for programs and policies to put in place now to help shorten and ameliorate the effects of the next recession. Now, some of these proposals form the basis for a plan announced recently by Sen. Michael Bennet (D-CO). Matthew Yglesias explains that plan for Vox.
As the baby-boom generation ages, the care needs of the nation's elderly are growing, writes Eduardo Porter in The New York Times. Much of the burden is being taken up by their children, especially their daughters. In the absence of a national paid leave program, this burden is an important factor depressing the U.S. female labor participation rate, which, in 2017, ranked 30th among the 36 industrialized countries currently in the Organisation for Economic Co-operation and Development. "By knocking many women in their prime earning years from the work force, the growing strain from care is weighing down the American economy," Porter writes.
Friday Figure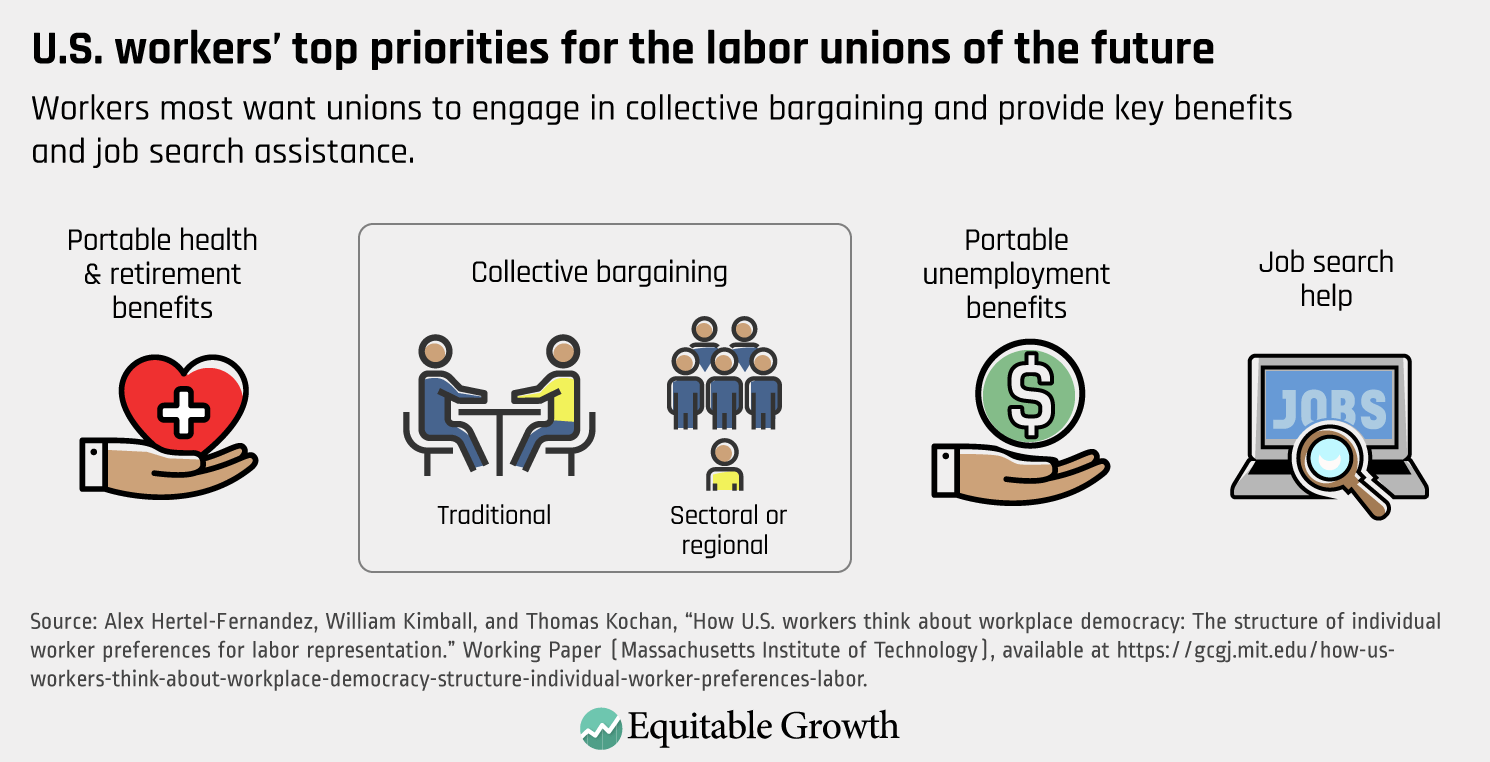 Figure is from Equitable Growth's "What kind of labor organizations do U.S. workers want?" by Alex Hertel-Fernandez.