Weekend reading: "Juneteenth" edition
This is a weekly post we publish on Fridays with links to articles that touch on economic inequality and growth. The first section is a round-up of what Equitable Growth published this week and the second is the work we're highlighting from elsewhere. We won't be the first to share these articles, but we hope by taking a look back at the whole week, we can put them in context.
Equitable Growth round-up
Wednesday was Juneteenth, the holiday commemorating the end of slavery in the United States. In observance of the holiday, Liz Hipple and Maria Monroe did a round-up of some of Equitable Growth's research and analysis on both the persistence of economic racial inequality between white and black Americans today and some of the reasons for it.
One overlooked contributor to wage stagnation over the past several decades is the shift from large firms doing many activities in-house to firms buying goods and services from a complex web of other companies, particularly in areas such as logistics, cleaning, and information technology. Susan Helper, an economist at Case Western Reserve University, explains how reliance on these supply chains depresses wages for workers, and recommends "high-road" policy solutions that acknowledge the important role supply chains play in businesses' operations while addressing some of the consequences of them for workers.
Catch up on Brad DeLong's latest worthy reads from Equitable Growth and around the web.
Links from around the web
In an essay for Democracy, Equitable Growth's Executive Director Heather Boushey writes about the paradigm shift in the field of economics away from theory to empiricism and its implications for our understanding of how the economy actually works. [democracy]
The decline of the U.S. retail sector has gotten much less attention than the decline of other industries, such as manufacturing, writes The Washington Post's Catherine Rampell. Part of that might be due the sector's lack of a geographic concentration—there's no equivalent Rust Belt—but also because of the demographics of who works in the different industries, and our gendered and racial views of who deserves sympathy as their industries decline. [wapo]
In an article for The Wall Street Journal about the increase in industry consolidation and concentration, Greg Ip discusses research by the Washington Center for Equitable Growth that finds that the number of enforcement cases brought by the U.S. Justice Department's antitrust division against alleged anticompetitive agreements and monopolistic behavior has plummeted in the past decade. [wsj]
Gross Domestic Product is used as a default metric of economic growth by policymakers, but it fails not only to capture who is experiencing that growth but also whether it represents any meaningful improvement in people's well-being. New Zealand has addressed that shortcoming by releasing a "Well-being Budget," the goal of which is not to boost GDP but to increase the happiness and well-being of its citizens. [wapo]
On Wednesday, Juneteenth, the House Judiciary Committee held a hearing on reparations. Darrick Hamilton, executive director of the Kirwan Institute for the Study of Race and Ethnicity at The Ohio State University and an Equitable Growth grantee, spoke with NPR's Noel King in advance of the hearing about some of the issues that reparations would address, including the racial wealth gap. [npr]
Friday Figure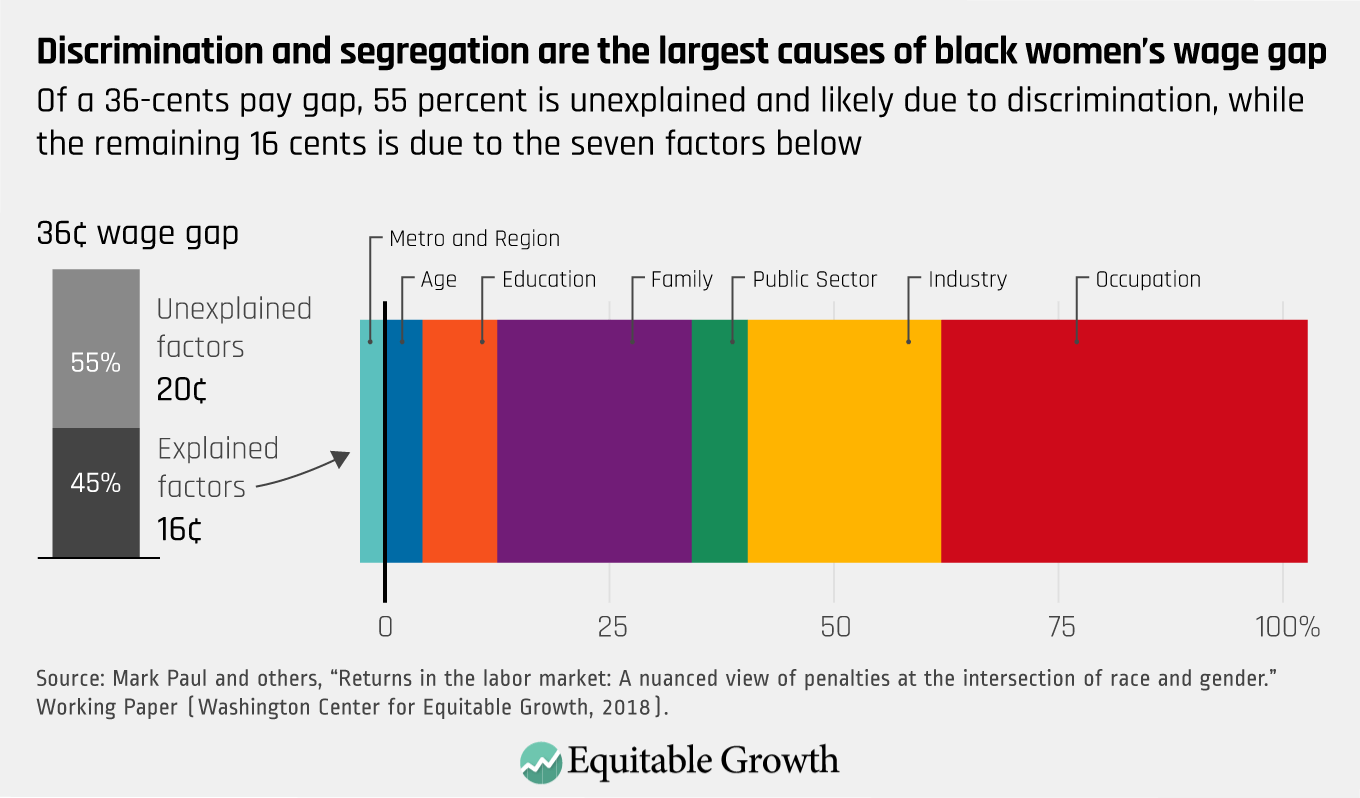 Figure is from Equitable Growth's, "How workplace segregation fosters wage discrimination for African American women" by Will McGrew.