Weekend Reading: "Digital Competition" edition
This is a weekly post we publish on Fridays with links to articles that touch on economic inequality and growth. The first section is a round-up of what Equitable Growth published this week and the second is the work we're highlighting from elsewhere. We won't be the first to share these articles, but we hope by taking a look back at the whole week, we can put them in context.
Equitable Growth round-up
This week, Equitable Growth released the working paper "Declining Job Quality in the United States: Explanations and Evidence" by David R. Howell of The New School and Arne L. Kalleberg of the University of North Carolina at Chapel Hill. The paper finds that in spite of a growing U.S. economy, the bottom half of the wage distribution has seen their average pay decline since 1980. Moreover, a rising share of workers are in low-wage jobs, and these jobs are now less likely to offer benefits like health insurance than before. It is an important read for anyone who is concerned about the quality of jobs that are being created.
The U.S. Bureau of Labor Statistics this morning released its monthly JOLTS report, summarizing total hiring, firing, and other job flows throughout the economy in January 2019. You can check out Kate Bahn and Will McGrew's analysis and charts of the JOLTS report here.
Every week, Brad DeLong compiles very good links from both Equitable Growth and around the web. You can check out his latest worthy reads here.
Links from around the web
The British government released a report this week by its independent Digital Competition Expert Panel, chaired by Jason Furman of Harvard University, a member of Equitable Growth's Steering Committee and former chair of the White House's Council of Economic Advisers during the Obama administration. The report rejects the idea that digital platforms are natural monopolies and suggests policy recommendations to help competition thrive in digital markets. These recommendations include making it easier for people to move their personal data to other services, developing digital systems with open standards, encouraging data sharing with potential competitors, strengthening antitrust policy, and preventing anticompetitive mergers. The report points out that over the past 10 years, the five largest digital firms have acquired more than 400 companies globally, and none of those acquisitions were blocked. [Digital Competition Expert Panel]
Despite high state income taxes on the rich, more rich people are moving to California than leaving, according to research cited by the Los Angeles Times. While many of the less well-off are leaving California because of high housing costs, the rich find California to be an attractive place to live because of opportunities to boost their incomes and networks. This suggests that for states, high taxes are not a huge deterrent if the economy is thriving. [Los Angeles Times]
Gene Sperling, the former director of the National Economic Council in the Clinton and Obama administrations, published an article this week arguing that economic policy should ultimately aim to improve economic dignity. He writes that it is misguided to focus too much on GDP or productivity growth because those measures can still rise when most of the gains go to the wealthiest Americans. He says what matters is how the quality of life is improving for most people. He defines economic dignity as having three pillars: the ability to care for one's family, the pursuit of potential and purpose, and economic participation without domination or humiliation. He urges policymakers to focus not on ideology but rather on which policies will ultimately be most effective in providing economic dignity. [Democracy]
The Trump administration released its 2020 budget proposal this week. Spending decisions are ultimately up to Congress, but the budget provides a snapshot of the administration's priorities. The proposal includes steep cuts to Medicare, Medicaid, and the Supplemental Nutrition Assistance Program, formerly known as the Food Stamp Program. [Washington Post]
The New York Times reports that the Trump administration is working on a proposal to monitor recipients of Social Security disability benefits on social media sites such as Facebook and Twitter. Their purported aim is to crack down on fraud by finding evidence that a disability benefits recipient may not be disabled, such as a photo of someone golfing. Advocates for people with disabilities are concerned that this could lead to some people being wrongfully removed from the program, since some disabled people may want to post pictures of themselves from before their disability. [New York Times]
Friday Figure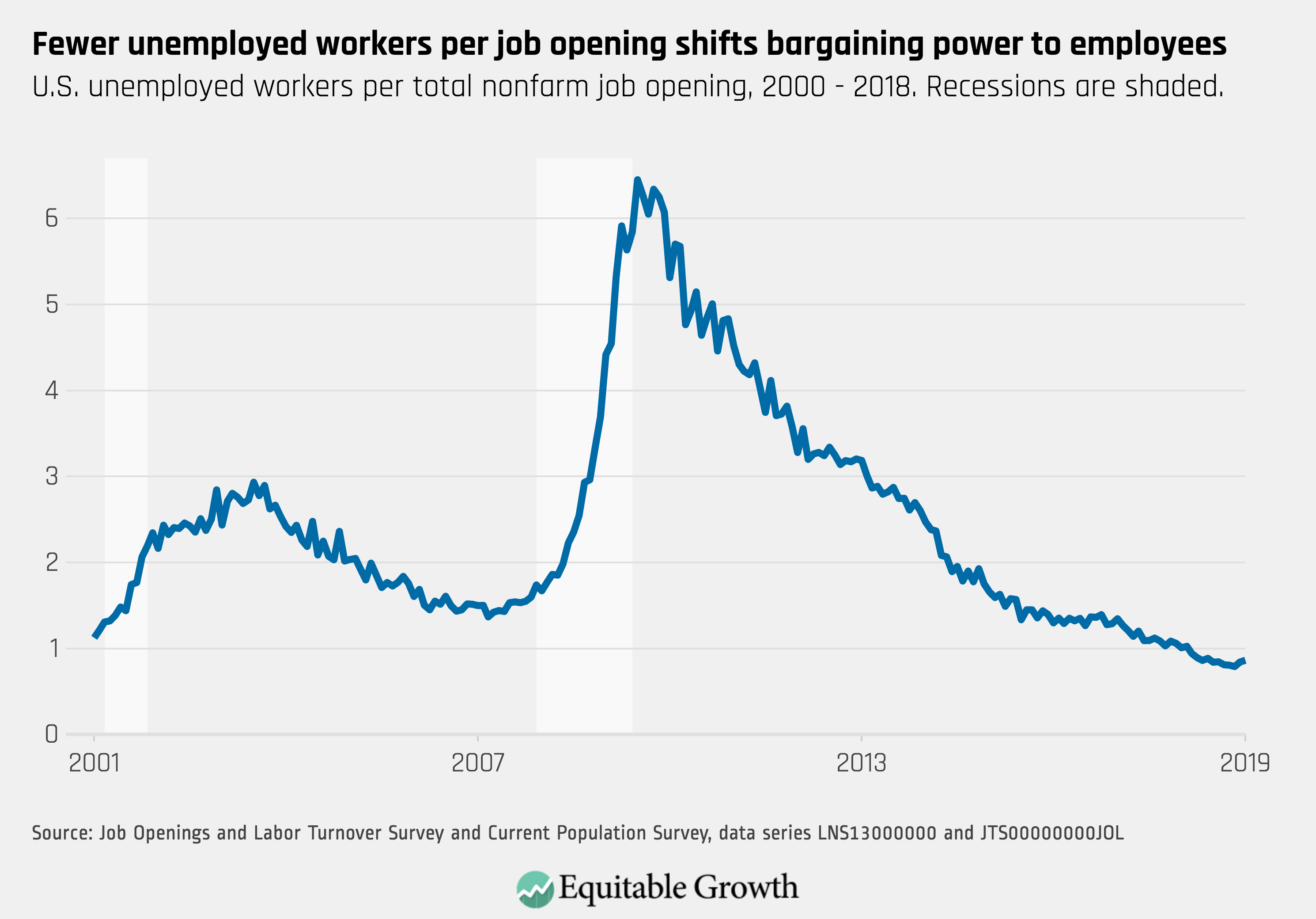 Figure is from Equitable Growth's "JOLTS Day Graphs: January 2019 Report Edition."