Weekend reading: "Climbing out the Jackson Hole" edition
This is a weekly post we publish on Fridays with links to articles that touch on economic inequality and growth. The first section is a round-up of what Equitable Growth published this week and the second is the work we're highlighting from elsewhere. We won't be the first to share these articles, but we hope by taking a look back at the whole week, we can put them in context.
Equitable Growth round-up
Tax Increment Financing is a popular local economic development tool, but it may have an important unintended consequence. By reducing property taxes, it may affect educational spending. Kavya Vaghul digs into this issue.
The annual Jackson Hole conference is a time for central bankers and researchers to get together to discuss important macroeconomic trends. And sometimes it leads to signs that monetary policy may be changing. But, unfortunately, that didn't happen this time.
You may have heard of the "47 percent," the share of Americans who don't pay federal income tax. But that nomenclature is based off a snapshot statistic from 2009. How do these trends look over time? A new study takes a look.
Gross domestic product was not intended to be a measure of economic welfare. But it gets used that way. A new study moves beyond GDP to create a new measure of welfare that has some interesting results.
Earlier today, the U.S. Bureau of Labor Statistics released new employment data for August 2016. Check out Equitable Growth's key graphs from this new report.
Links from around the web
In studies of economic downturns, economists have often used models that assume all households are the same. But that's starting to change. Kurt Mitman, Dirk Krueger, and Fabrizio Perri write up their study showing the impact of inequality on the severity of the Great Recession. [voxeu]
What's holding back productivity growth? Looking at a new report on the trend, Martin Sandbu looks at the roles of a lack of investment and a slowdown in total factor productivity and the potential policies to help boost growth. [free lunch]
Residential housing investment has been very weak in the wake of the Great Recession. What's holding back more housing construction? Adam Ozimek argues that it's not supply-side constraints. [moody's]
Conversations about housing and rental prices almost always center on the median or mean price. But a new study, highlighted by Emily Badger, looks at the distribution of rental offers showing that U.S. locations with lower rents also have a narrower distribution. [wonkblog]
A recent trend in economics research is to use the variation in trends or policies across the United States in order to try to answer questions often posed about the country as a whole. Many economists have done work in this area, but the Chicago Booth School of Business highlights some research by Chicago economists. [chicago booth review]
Friday figure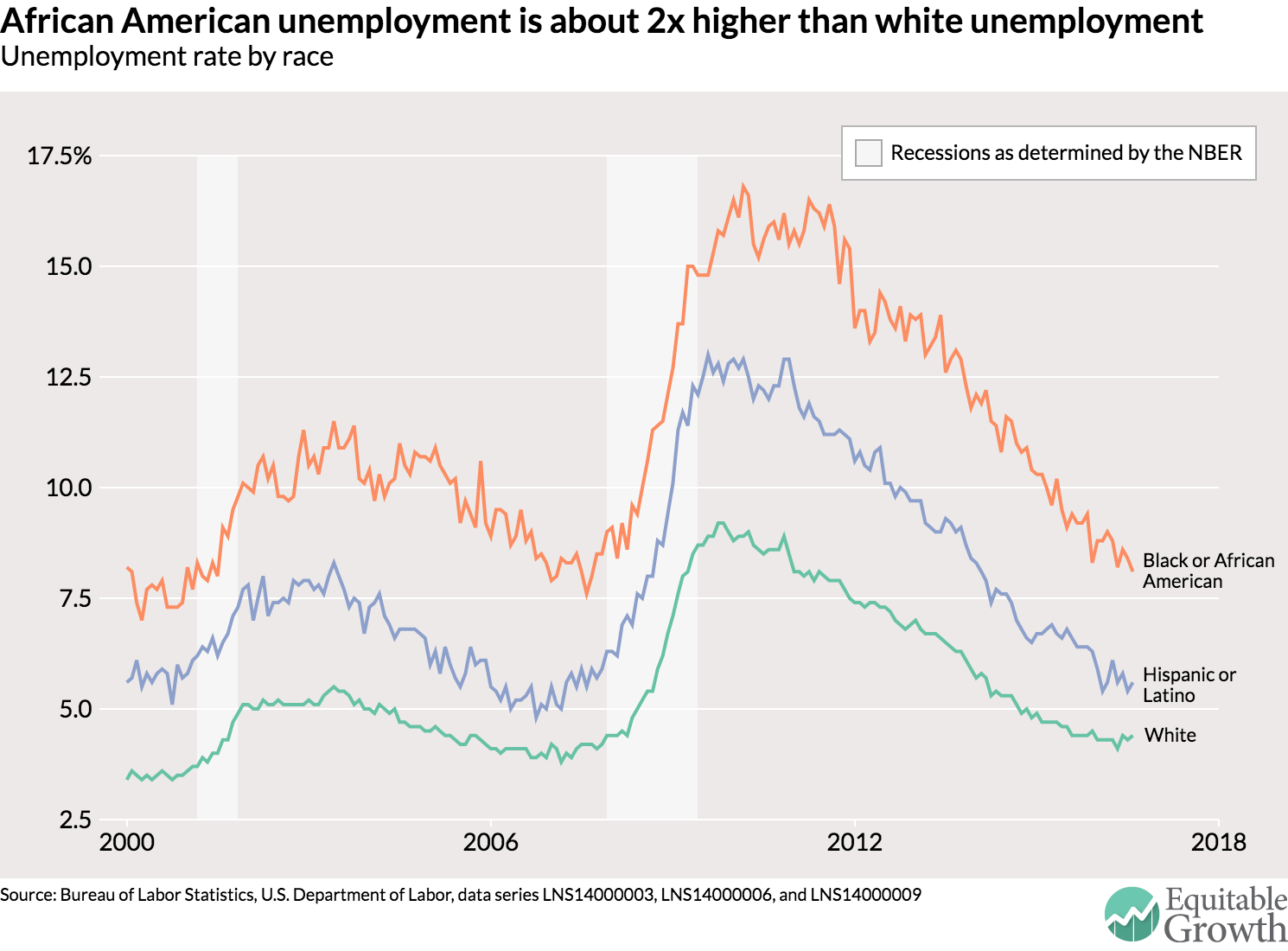 Figure from "Equitable Growth's Jobs Day Graphs: August 2016 Report Edition" by Equitable Growth staff