Weekend reading: "Better finish your taxes" edition
This is a weekly post we publish on Fridays with links to articles that touch on economic inequality and growth. The first section is a round-up of what Equitable Growth published this week and the second is the work we're highlighting from elsewhere. We won't be the first to share these articles, but we hope by taking a look back at the whole week, we can put them in context.
Equitable Growth round-up
On Tuesday, the U.S. Bureau of Labor Statistics released new data on hiring, firing, and other labor market flows from the Job Openings and Labor Turnover Survey, better known as JOLTS. Check out the key graphs from the report chosen by Kate Bahn and Raksha Kopparam.
Michael Kades writes about two bills that recently cleared the House Committee on Energy and Commerce that would make it easier for generic prescription drugs to come to market.
Catch up on Brad DeLong's latest worthy reads from Equitable Growth and around the web.
Links from around the web
With Tax Day coming up on Monday, it's a good time to brush up on the facts about tax evasion—what it is, how it varies across different income groups, and types of taxes paid. [econofact]
Despite the attention that gentrification receives in the media, growing poverty concentration is the more prevalent challenge metropolitan areas across the country are experiencing. [citylab]
New research into why economies with older workforces are less productive points to a reluctance among older workforces to adapt new technologies, rather than because older workers are themselves less productive. This finding points to a different set of policy solutions—including competition policy and immigration reform—to address the challenge. [economist]
Columbia University economist and Equitable Growth grantee Suresh Naidu talks about Economics for Inclusive Prosperity, a new initiative he recently launched with Harvard University economist Dani Rodrik and University of California, Berkeley economist and Equitable Growth grantee Gabriel Zucman, in an interview at the Stigler Center at the University of Chicago Booth School of Business. [promarket]
A new working paper by economists Leah Boustan of Princeton University, Katherine Eriksson of the University of California, Davis, and Philipp Ager of the University of Southern Denmark on the economic position of the sons of former slaveowners offers interesting insights into the role of social capital in intergenerational mobility. [wonkblog]
Friday Figure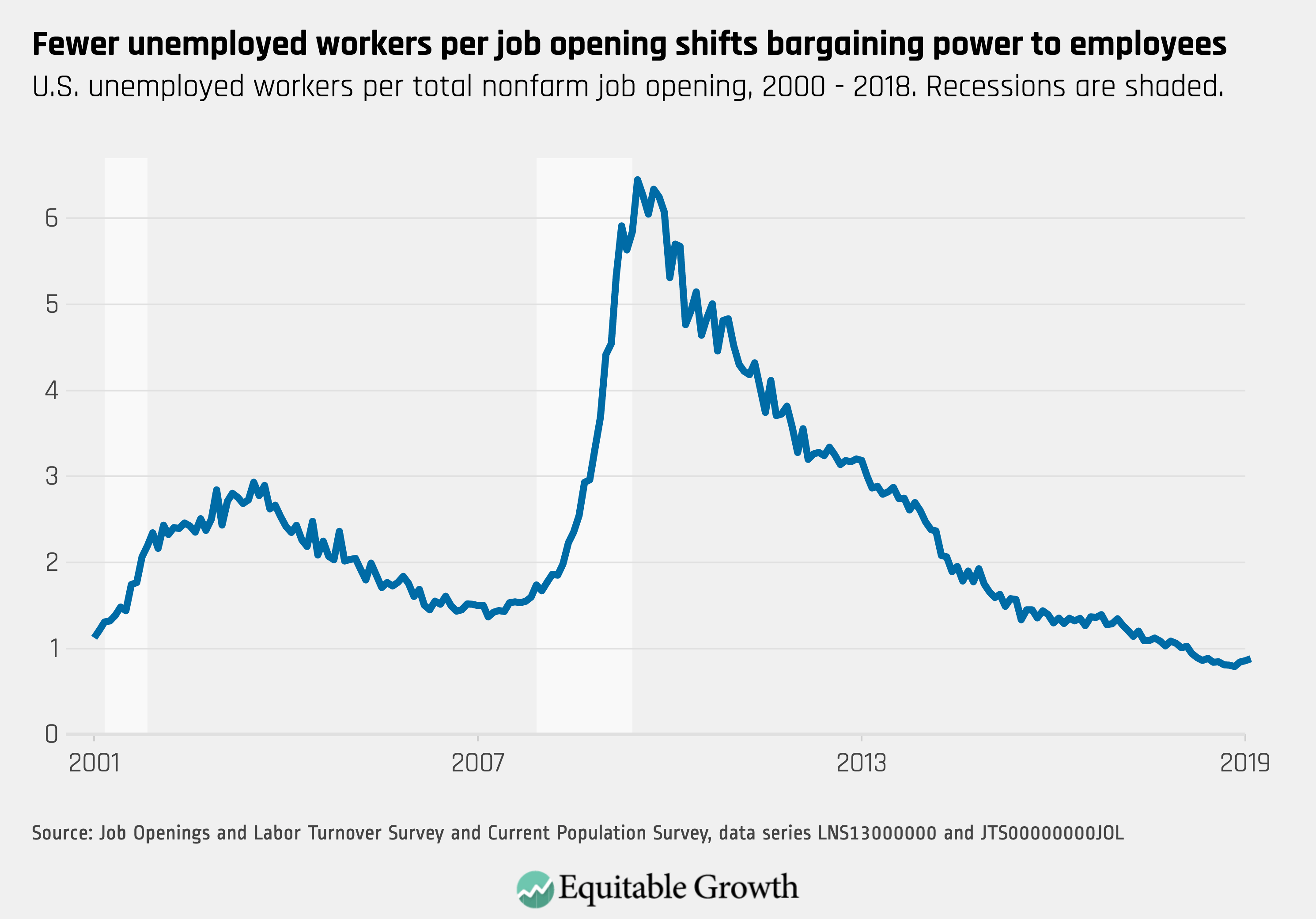 Figure is from Equitable Growth's "JOLTS Day Graphs: February 2019 Report Edition" by Kate Bahn and Raksha Kopparam.