Weekend reading: "A jolt in the markets" edition
This is a weekly post we publish on Fridays with links to articles that touch on economic inequality and growth. The first section is a round-up of what Equitable Growth published this week and the second is the work we're highlighting from elsewhere. We won't be the first to share these articles, but we hope by taking a look back at the whole week, we can put them in context.
Equitable Growth round-up
This week marks the 25th anniversary of President Bill Clinton's signing the Family and Medical Leave Act into law. As important as it has been, the FMLA alone does not meet the needs of today's workers or the U.S. economy. Bridget Ansel and Heather Boushey argue that a "well-designed federal paid leave program based on a social insurance model" is the path forward.
The Job Openings and Labor Turnover Survey (JOLTS) released new data for December 2017 on Tuesday. Check out 4 key graphs on the labor market using data from the report.
What would happen to the labor market if the federal government implemented a universal basic income? No one really knows. But new research looks at the labor market effects of an unconditional cash transfer program in Alaska – the Alaska Permanent Fund.
As a part of an essay series on sexual discrimination and harassment in the new issue of The New Republic, Heather Boushey asks, "If men cannot overcome their sexism toward women when discussing the qualifications of female economists, then how can they assume that any job market—or any market—is free of discriminatory bias?"
Links from around the web
Dylan Matthews looks at the state of the Social Security Disability Insurance program, an oft-maligned social insurance program. Recipients are often described as lazy people with minor injuries. Matthews finds, instead, that the program gives needed support to people who would find work very difficult. [vox]
In recent months, the Trump Administration and Congressional Republicans have suggested adding work requirements to social insurance and welfare programs, much as the 1996 "welfare reform" did. Vann R. Newkirk II writes about that change and how it altered cash assistance in the United States. [the atlantic]
The U.S. government may borrow up to $1 trillion this year, according to estimates from Wall Street. Alexandra Scaggs asks readers to consider the impact of declining Federal Reserve purchases when thinking about this number and not to think it's all because of higher spending or lower taxes. [ft alphaville]
As policymakers consider a budget deal, Neha Dalal and Aaron Sojourner ask policymakers to consider increasing public investments in the U.S. families who often need it most: those with young children. [the hill]
"Well into the information age, in a business ecosystem with low barriers to entry, where venture capital stands ready to throw itself at the next good idea, the economy has somehow forgotten how to create companies," writes Eduardo Porter on the declining dynamism in the United States economy. [nyt]
Friday figure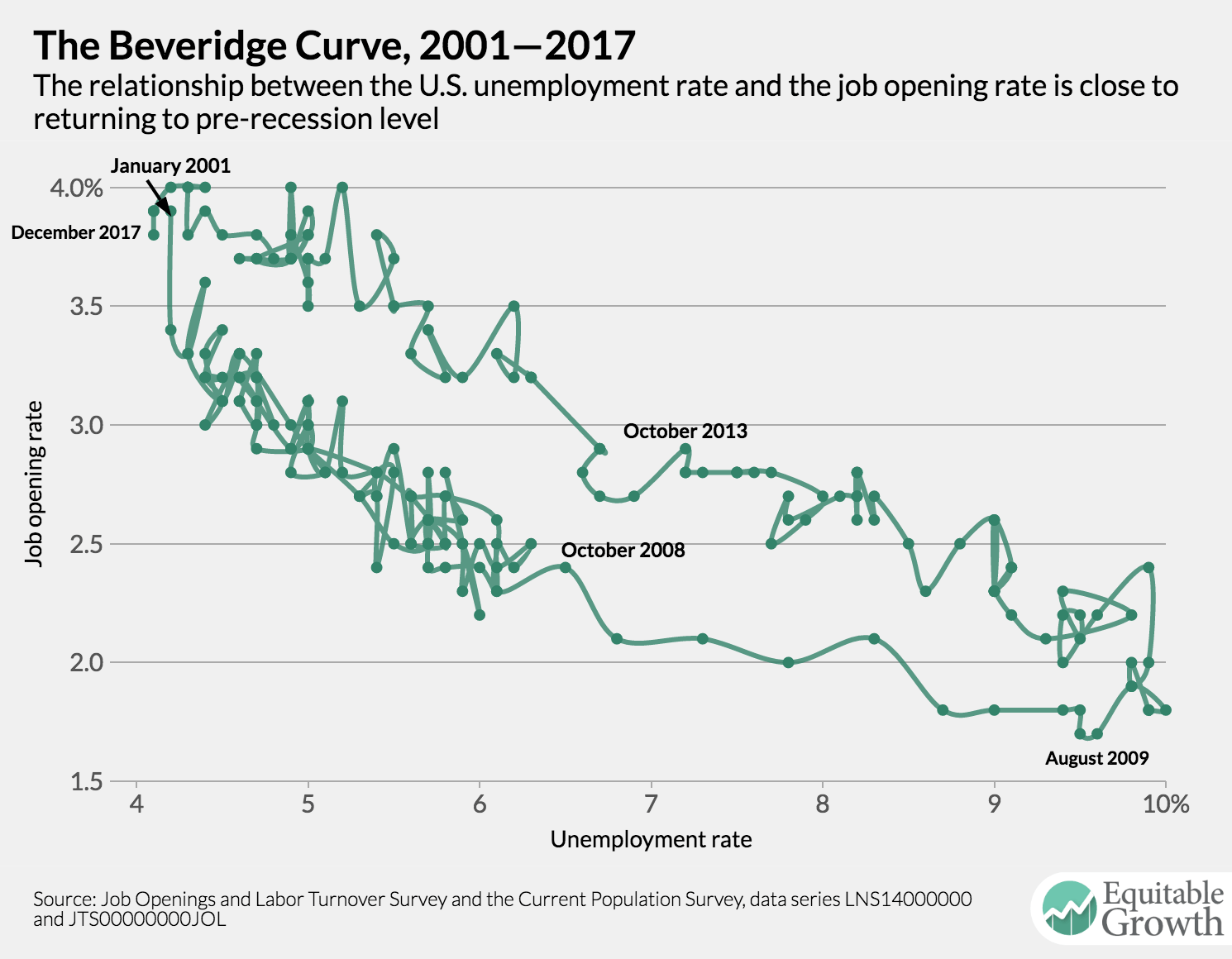 Figure from "JOLTS Day Graphs: December 2017 Report Edition" by Nick Bunker