Expert Focus: Studying the future of work and technology's impact on workers

Equitable Growth is committed to building a community of scholars working to understand how inequality affects broadly shared growth and stability. To that end, we have created the series "Expert Focus." This series highlights scholars in the Equitable Growth network and beyond who are at the frontier of social science research. We encourage you to learn more about both the researchers featured below and our broader network of experts.
Since the onset of the COVID-19 pandemic, millions of workers have transitioned to remote work or telework, vastly increasing their use of certain technologies and software as a result. Digital technologies, while enabling this switch to home offices, are a double-edged sword, often coming with increased employer monitoring of workers and their activities.
Yet workplace surveillance is nothing new and was becoming more rampant across sectors of the U.S. economy before the COVID-19 crisis. This increasing use of technology to monitor and control workers has widespread implications for worker power, protections, and well-being.
This month's Expert Focus highlights leaders in the field of the future of work who are examining technology's impact on workers and the U.S. economy. These researchers are seeking to clarify how workers are affected by various forms of monitoring and algorithmic management, how technology shapes new forms of work such as the gig economy, the impacts of Big Tech companies and their innovations on the workplace, and how to protect workers and ensure worker power in the age of digital technologies.
Much is still unknown about how employers use technology and its effects on workers, and how employers' use of technology for monitoring and management will continue to affect the U.S. workforce in the future. That's why Equitable Growth's 2023 Request for Proposals seeks to fund projects looking into technology and the workplace, including studies examining how employers' use of technology affects work and workers in areas of hiring, work conditions, scheduling, and more; how employer decisions around automation, algorithms, and other technologies will impact workers, wages, and labor markets; the role of policy and labor market institutions in shaping these outcomes; and whether there are disparate effects on different demographic groups of workers and protected classes.
Find more information on the 2023 RFP, funding channels, who is eligible, and how to apply.
Annette Bernhardt
University of California, Berkeley
Annette Bernhardt is the director of the Technology and Work Program in the University of California, Berkeley's Labor Center and a senior researcher at Berkeley's Institute for Research on Labor and Employment. She is a leading labor market scholar in the areas of low-wage work and the future of work and workers, with a focus on the impact of new technologies, the minimum wage and other labor standards, the gig economy, and enforcement of employment and labor laws. One of her recent reports, co-authored by colleagues Lisa Kresge and Reem Suleiman, looks at how employers are increasing their use of data and algorithms in ways that impact workers, wages, working conditions, and racial and gender equity, and then proposes policies that ensure worker technology rights. As an expert in these areas, Bernhardt also helped to develop and analyze innovative policy responses to the changing nature of work in the United States.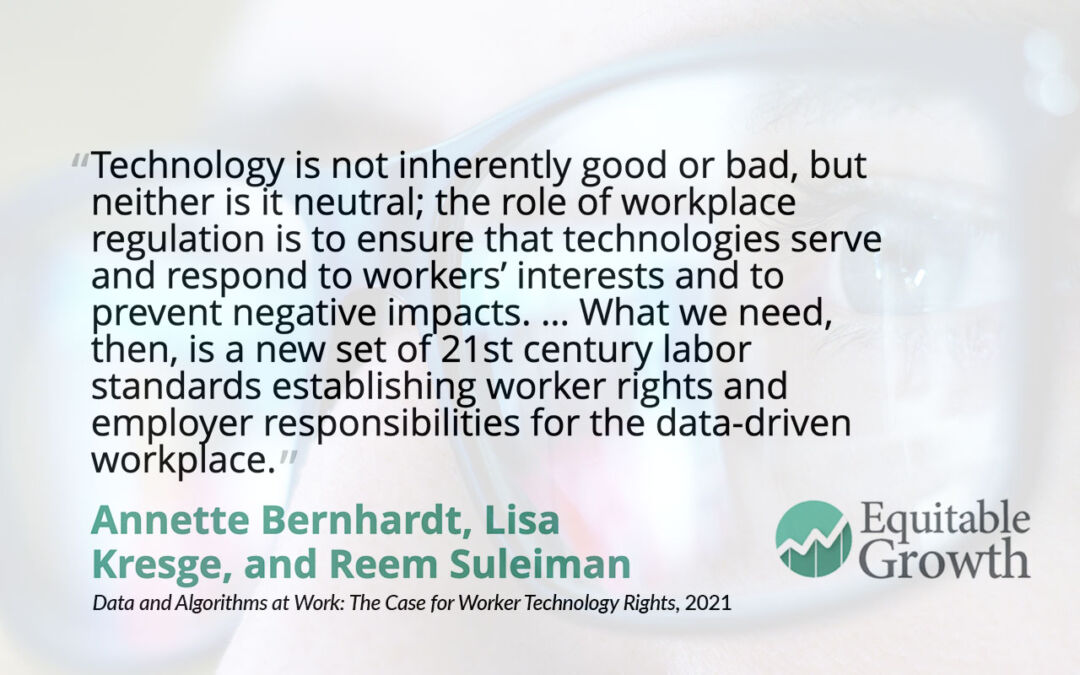 Peter Cappelli
University of Pennsylvania
Peter Cappelli is the George W. Taylor Professor of Management at the University of Pennsylvania's Wharton School of Business and the director of Wharton's Center for Human Resources. His research focuses on human resource practices, public policy related to employment, and talent and performance management. His research on contract-based workers and the future of work looks at employer-employee relationships and workplace structures. He also examines the impact of the COVID-19 pandemic and remote work—including the technology that enables it—on professional outcomes and opportunities. Cappelli's 2021 book, The Future of the Office: Work from Home, Remote Work, and the Hard Choices We All Face, looks at these issues in more detail and puts them in the context of broader labor market trends and changes.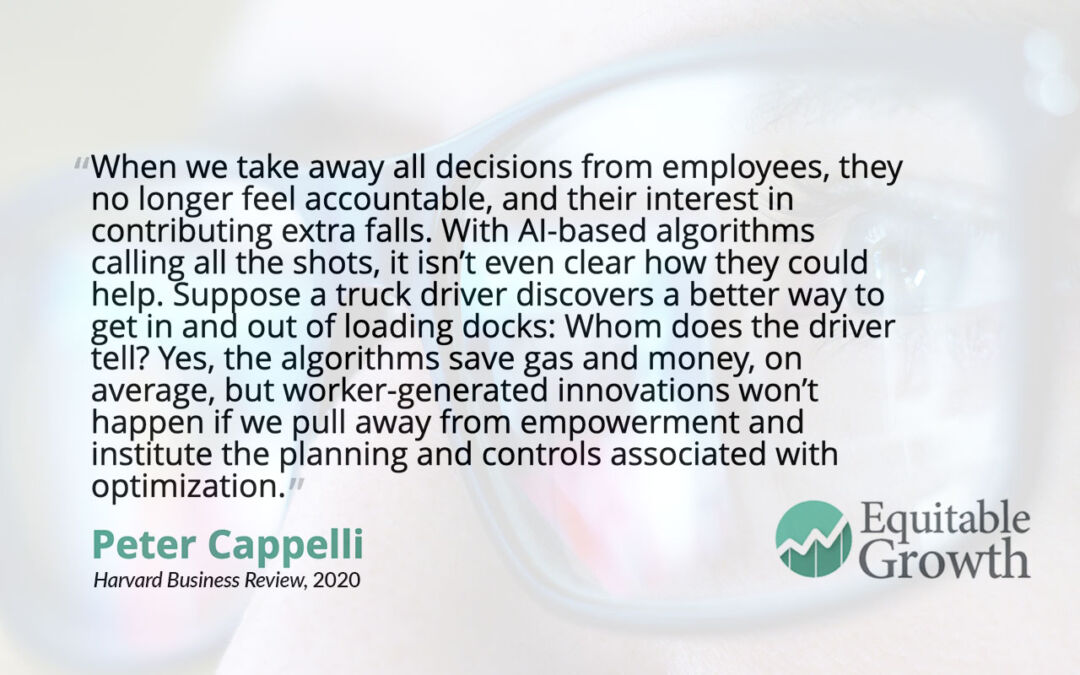 Timnit Gebru
Distributed Artificial Intelligence Research Institute
Timnit Gebru is the founder of the Distributed Artificial Intelligence Research Institute. She has spent much of her career working in technology and artificial intelligence and is widely recognized as an expert in AI research and ethics. Gebru is an strong advocate for diversity in tech and is the co-founder of Black in AI, a nonprofit that aims to increase the presence and foster the inclusion of Black people in artificial intelligence. In 2018, her co-authored study on racial and gender biases in facial recognition software led Microsoft Corp., her employer at the time, and IBM Corp. to diversify the datasets that inform their facial recognition algorithms. A recent co-authored paper lays out a "doctrine of universal human rights" to serve as a guiding framework for responsible artificial intelligence, centering humans and the risks to their rights—from the right to freedom from discrimination to the right to share in scientific advancement—in the research around AI and ethics.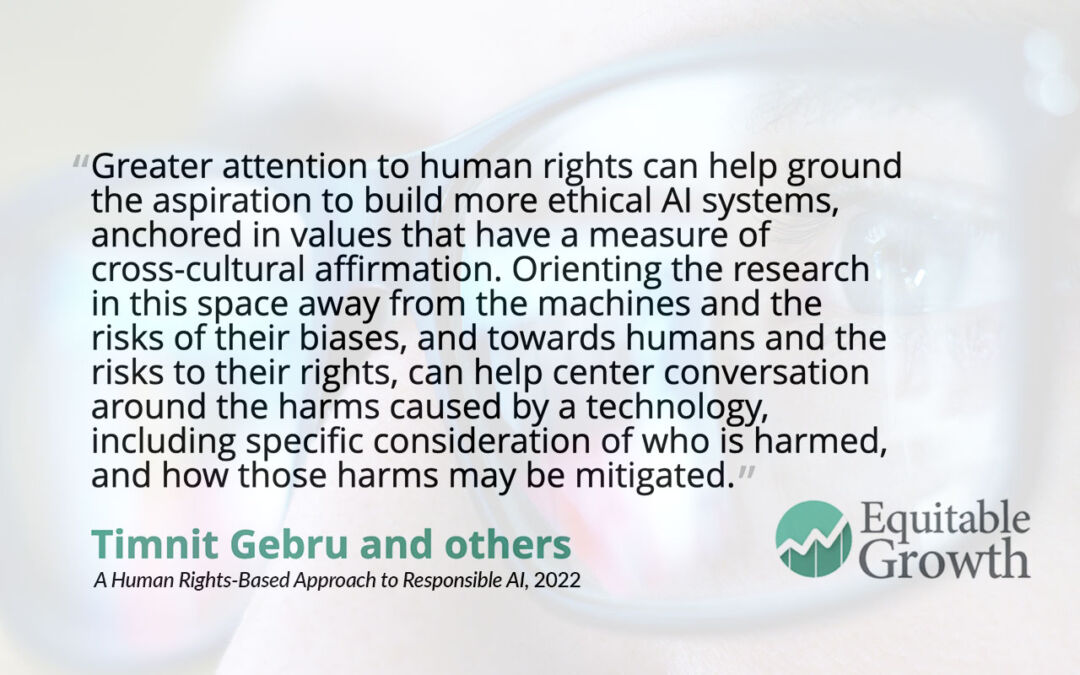 Karen Levy
Cornell University
Karen Levy is an associate professor in the Department of Information Science at Cornell University. Her research centers on how law and technology interact to regulate and control social life, with a particular focus on surveillance and contexts that are marked by inequality. One of her main areas of interest is the impact of data-intensive technologies and monitoring on work and workers. Levy's upcoming book, Data Driven: Truckers, Technology, and the New Workplace Surveillance, looks at how new forms of digital surveillance and automation are affecting long-haul truckers in the United States and upending their lives and work on the road. A co-authored chapter in The Oxford Handbook of Ethics of AI of 2020 looks at how technology and artificial intelligence will affect workers in ways other than displacing them—including employers using technology to shift risks from themselves to workers—in the workforce and offers some policy responses.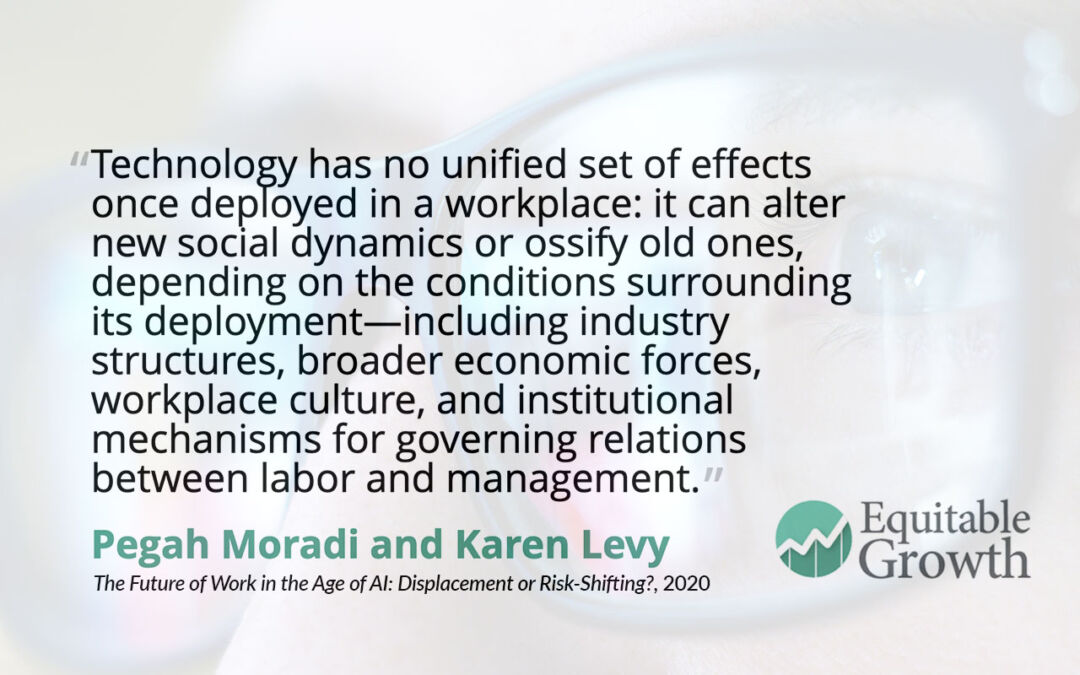 Peter Norlander
Loyola University Chicago
Peter Norlander is an associate professor of management and the director of the master's degree program in human resources and employment relations at Loyola University Chicago Quinlan School of Business. His research examines the balance of power in employment relationships, discrimination against certain groups of workers, and the future of work—including gig work, outsourcing, and remote work. Recently, Norlander has written about guest worker visa programs and their impacts on workers and firms, stigmatization against unemployed workers amid the COVID-19 pandemic and the 2020 recession, and the effects of digital surveillance tools in the gig economy. His latest working paper on predictors of remote work opportunities before and after the pandemic finds that firms play a key role in deciding if a job is remote, and that workers who are unionized, professionally licensed, or federal government employees were more likely to have remote opportunities before the pandemic.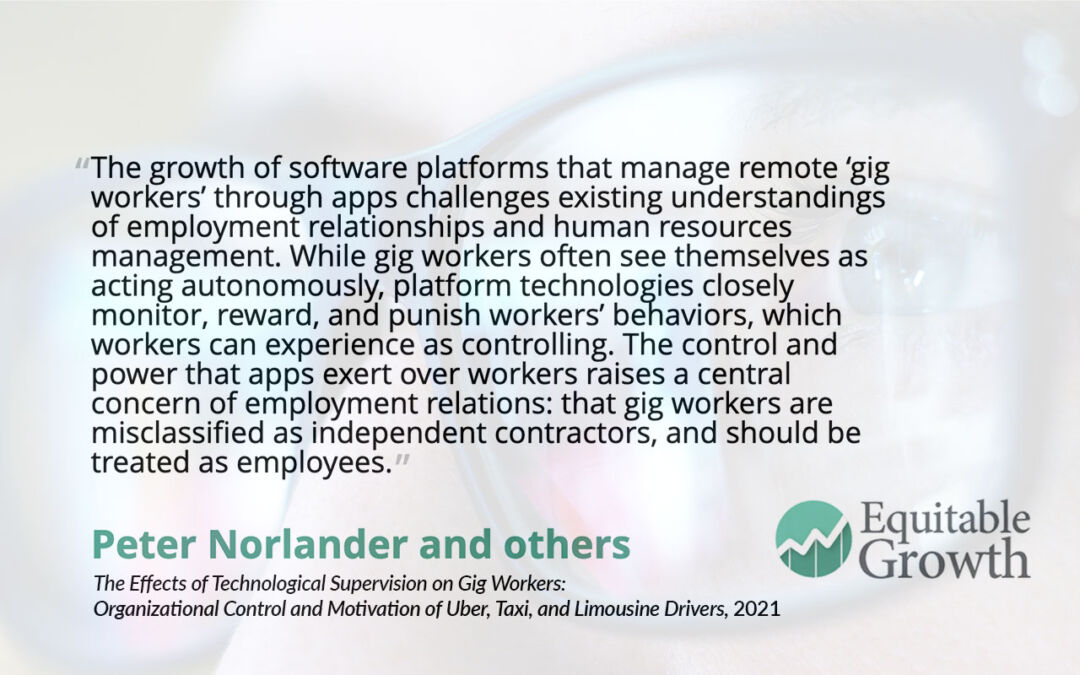 Meredith Whittaker
Signal Foundation
Meredith Whittaker is the president of the Signal Foundation, a nonprofit organization that runs the ultra-private encrypted messaging app Signal. She previously served as a senior advisor on artificial intelligence to Chair Lina Khan of the U.S. Federal Trade Commission and was the Minderoo research professor at New York University, where her research focused on AI policy and the state of AI, and surveillance business practices. In her 17 years of experience, she has become known as a fierce critic of tech companies, their harmful business practices, and the impacts on workers. She is an advocate for including those who are most impacted by technology and surveillance in decisions about when and whether to share their data. Whittaker has testified before the U.S. Congress on various aspects of technology, including ethical implications of AI and the transparency and accuracy of facial recognition.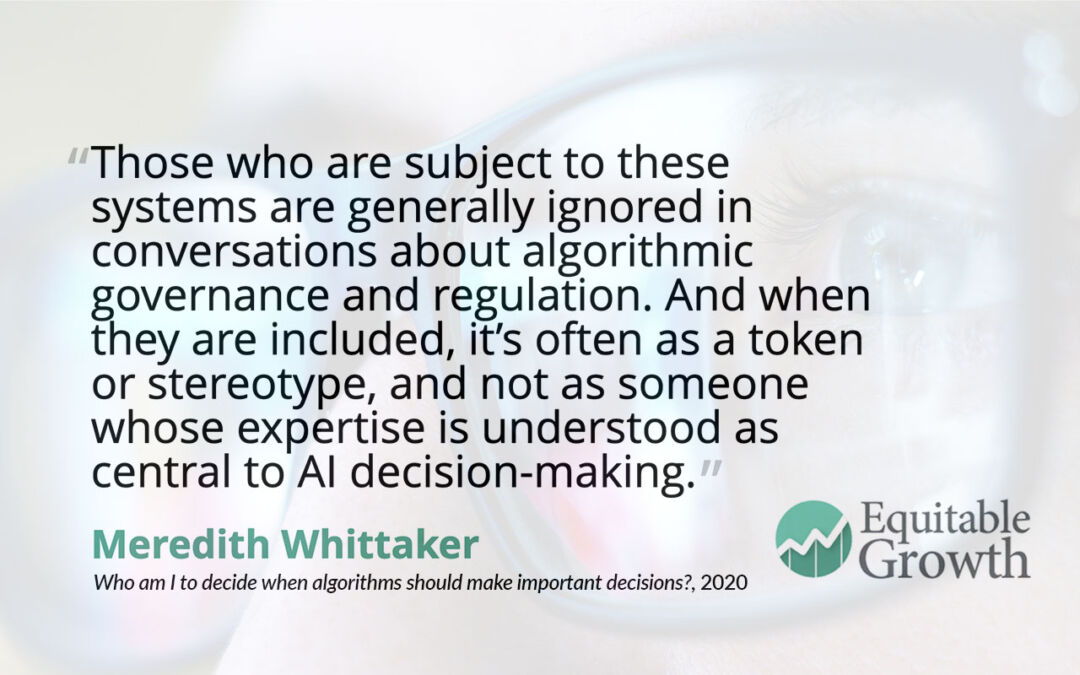 Equitable Growth is building a network of experts across disciplines and at various stages in their career who can exchange ideas and ensure that research on inequality and broadly shared growth is relevant, accessible, and informative to both the policymaking process and future research agendas. Explore the ways you can connect with our network or take advantage of the support we offer here.