Equitable Growth welcomes two new Dissertation Scholars for 2021–22 academic year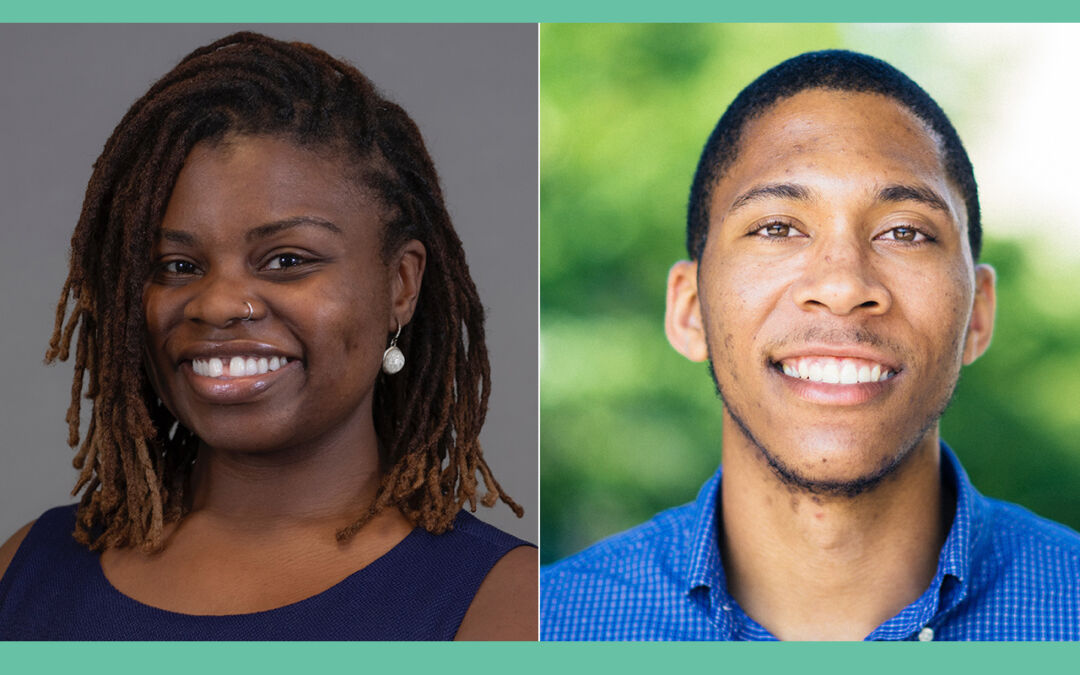 The Washington Center for Equitable Growth through its Dissertation Scholars Program supports pre-doctoral students from the social sciences who are studying the links between inequality and growth. With a stipend of $50,000, as well as professional support—including connections to potential mentors and collaborators in the Equitable Growth network—the program invests in the next generation of scholars pursuing research that will inform evidence-backed policy solutions.
The Equitable Growth Dissertation Scholars for the 2021–22 academic year are Lauren Russell of Harvard University and Sheridan Fuller of Northwestern University. Both Russell and Fuller have started their in-house residence virtually.
Russell is a Ph.D. student in public policy at Harvard University and a familiar face at Equitable Growth, having received a doctoral grant in 2019 to study the link between a criminal record and access to opportunity and mobility. Her research interests are in labor economics and public finance, with a focus on the intersections of poverty, race, and inequality. Her current focus is centered on understanding and addressing social inequality as it relates to housing, mobility, and criminal justice.
Russell's research agenda has two main prongs. First, she is examining whether and how a criminal record limits access to some neighborhoods in the United States—specifically, neighborhoods with high measures of social mobility, low crime rates, and good-quality schools. Second, she is exploring whether limited or precarious access to housing leads to recidivism and the relationship between recidivism and neighborhood quality.
In Russell's own words, her two research objectives necessarily mean a "focus on the role that structural racism has played in determining outcomes in housing, mobility, and criminal system contact for Black and Indigenous people in the United States both historically and in the current moment."
Russell also acknowledges the importance of working with both policymakers and key stakeholders to translate her research findings into real-world policy proposals. Her hope, she says, is that "this project will push forward the conversation on racial justice in access to quality housing and provide evidence in support of a policy response." This link to policy is a key aspect of Equitable Growth's mission of bridging the academic and policymaking communities in order to foster evidence-backed ideas that ensure a strong and stable economy for all.
Like Russell, Fuller also understands the importance of connecting research to policy, having spent time in both fields. Before beginning his doctoral program, he was a presidential management fellow at the U.S. Department of Health and Human Services, an experience that drove him, as he explains it, to strive to "develop a toolkit that would allow me to traverse both policymaking spaces and generate research that informs those policy processes and decisions."
Fuller's research since starting his graduate program in human development and social policy at Northwestern University has centered on income support programs, such as the Temporary Aid for Needy Families program, and the impact of these programs on U.S. families, and especially on children. He particularly looks at how the design of income support programs can either limit or expand access to vital resources for families, with implications for children's well-being.
His current work has two primary goals. One is to determine whether racialized welfare policies hindered families' access to cash assistance program benefits. The other is to identify long-term effects of these programs on children's health, educational, and economic outcomes in adulthood. Through his research, Fuller will calculate the material benefits—including the aforementioned health, educational, and economic outcomes—that Black and Latinx families lost as a result of being excluded from income support programs, particularly as relates to the 1996 welfare reform legislation that reduced families' access to cash assistance.
Fuller hopes his research will "provide policymakers with evidence on cash assistance's effectiveness in protecting children and families experiencing vulnerability and economic hardship" with a specific eye toward "how the racialized design of welfare policies may exacerbate economic inequality and undermine the goal of creating strong, stable growth for all Americans."
On the value of joining the Dissertation Scholars program, both Russell and Fuller expressed enthusiasm.
"I cannot imagine another institution that is better-fitting for my research trajectory or more equipped to support me as a Black woman economist seeking to make policy contributions that combat structural racism," said Russell.
"I see [the program] as a unique opportunity to further my career as an engaged policy researcher who is prepared to bring my skills to developing and implementing policies that lead to strong, stable, and equitable growth for all Americans," said Fuller.
We are excited to welcome Russell and Fuller to Equitable Growth, and look forward to working with both of them over the coming months.
In addition to funding the Dissertation Scholars Program, Equitable Growth awards research grants each year to scholars studying the impact of inequality on economic growth. In August, we announced a record $1.39 million in awards to the largest cohort of grantees—62 in total—in the history of the organization. These grants will go to faculty and staff at U.S. universities, as well as to several doctoral students working on their dissertations. Learn more about our grants program and click here to review the 2021 Request for Proposals.