Equitable Growth hosts the 2nd Grantee Conference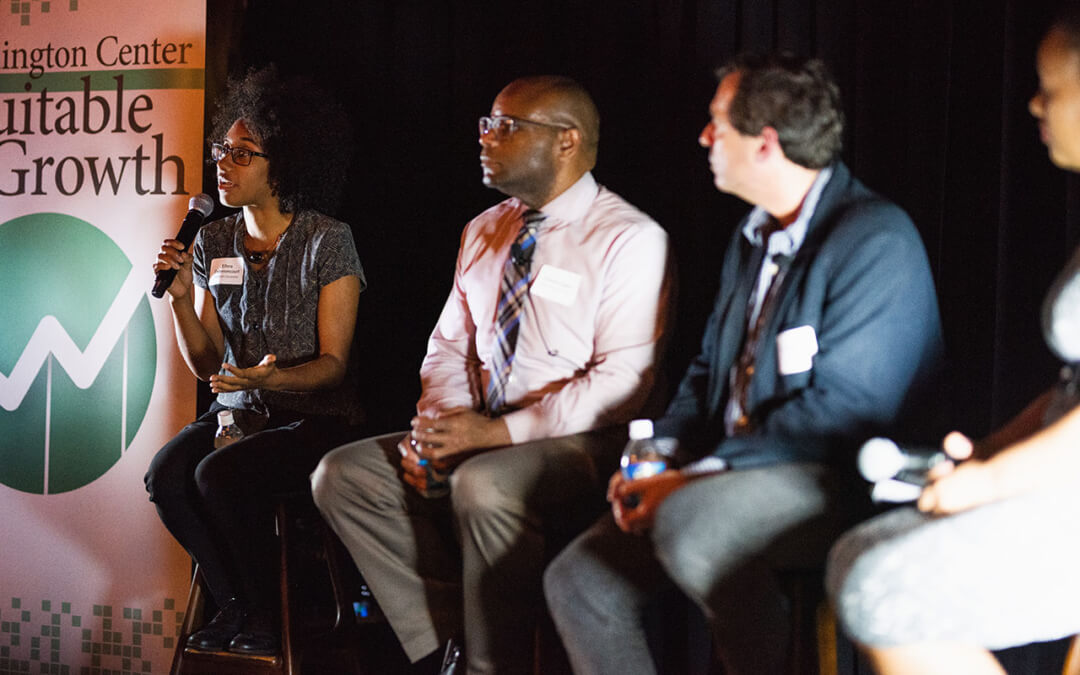 The Washington Center for Equitable Growth last week hosted our second grantee conference, where we showcased research funded through our competitive grants program. This year, Equitable Growth awarded 24 grants to faculty and Ph.D. candidates in the social sciences whose research helps us understand the mechanisms through which economic inequality may impact economic growth and stability.
We kicked off our conference on the evening of September 26 with another installment of our Research on Tap series, where we discussed the role that "race and place" play in shaping economic mobility. Moderated by Kimberly Adams of Marketplace, the panel discussed the long-term effects of institutional racism such as how the now-illegal practice of redlining restricted the growth of black communities. Ellora Derenoncourt, an Equitable Growth grantee and Ph.D. candidate in economics at Harvard University, explained how cities that saw an influx of blacks during the Great Migration of the mid-20th century reallocated public spending, with large increases in policing and public safety. Trevon Logan, a grantee and professor of economics at The Ohio State University, explained how the allocation of public resources is critical for upward mobility, with transportation being one area that can greatly improve economic outcomes by connecting people with jobs and other services. And David Grusky, professor of sociology at Stanford University, noted how a lack of adequate data, particularly data that is broken down into racial and ethnic subgroups, is an obstacle to studying the role that race and place play in mobility.
During our grantee conference the next day, we brought grantees from up and down the career ladder to discuss the latest cutting-edge research during panel presentations and discussions. One panel revolved around the question of wealth and the role it plays in creating or sustaining economic inequality and growth. Moderated by Equitable Growth Executive Director and Chief Economist Heather Boushey, the panel discussed how wealth has been increasingly concentrated in the top 1 percent since the Great Recession. Federal Reserve economist and member of Equitable Growth's Research Advisory Board, Claudia Sahm, explained how lower- and middle-class homeowners suffered the most during the recession since the majority of their wealth was in the value of their homes, but volatile home prices resulted in significant wealth instability, leading other panelists to ask if buying a home is as safe an investment now as it has been historically. Fisher described economic immobility as a byproduct of wealthy parents having the ability to protect their children's financial futures through the purchase of homes in high-performing school districts, the ability to pay for higher education, and effectively insuring their entrance into the labor market by subsidizing internships and allowing them to take less lucrative but professionally advantageous positions early in their careers.
While discussing the relationship between wealth and income volatility, grantee and American University public policy professor Bradley Hardy detailed a study that found half of U.S. adults hold no wealth buffer in the event they need $400 for an emergency and would have to charge the expense, pay it off over time, or get a pay-day loan. Hardy discussed how the most vulnerable households are those with few to no buffers available in times of emergency.
Equitable Growth wrapped up the conference with a dinner and keynote speech by University of California, Berkeley economics professor Emmanuel Saez, who is also a member of Equitable Growth's Steering Committee and the 2009 winner of the John Bates Clark medal from the American Economics Association. Saez discussed the importance of looking to the evidence when assessing the effects of wealth on economic inequality and growth. He noted the importance of data to uncovering trends in the distribution of wealth and income and how researchers, armed with new data, can begin to understand how growing inequality may impact the health and stability of our economy.
Equitable Growth works every day to support rigorous, cutting-edge research and to use that research to inform policy. The attendees and guests at our grantee conference experienced our mission in action.