Weekend reading: "race and place" edition
This is a weekly post we publish on Fridays with links to articles that touch on economic inequality and growth. The first section is a round-up of what Equitable Growth published this week and the second is the work we're highlighting from elsewhere. We won't be the first to share these articles, but we hope by taking a look back at the whole week, we can put them in context.

Equitable Growth round-up

This week, Stanford University economist and Equitable Growth Steering Committee Member Raj Chetty and fellow researchers Nathaniel Hendren at Harvard University and Maggie R. Jones and Sonya R. Porter at the U.S. Census Bureau released a new research paper entitled "Race and Economic Opportunity in the United States: An Intergenerational Perspective." Equitable Growth's Liz Hipple looked at how this research about the importance of race for understanding mobility fits in with Chetty's past research about the relationship between mobility and economic growth, inequality, and place.

Links from around the web

Learn more about the key findings of Chetty and his co-authors' new research on the impact of race on mobility in The Upshot. [nyt]

An under-appreciated factor in college attendance is geographic proximity to an institution of higher learning, writes Notre Dame economist and Equitable Growth-grantee Abigail Wozniak. More than 56 percent of public four-year college student attend an institution under an hour's drive away from home, and experiments from around the country find an increase in college attendance among locals when new schools open near them. [econofact]

The Congressional Budget Office this past week released its annual report on the distribution of American household income with data up through 2014. The report made methodological changes to how they account for government transfers in measuring income, which allow for a more detailed analysis of the impact of means-tested government transfers such as Medicaid. [mother jones]

Starbucks Corp. announced this week that the company has achieved gender-and-race pay equity among all of its U.S. employees in similar roles. One way Starbucks did this was by not asking job candidates about their salary history and using that information to determine starting pay, which perpetuates any past pay inequity. [cnn money]

Friday figure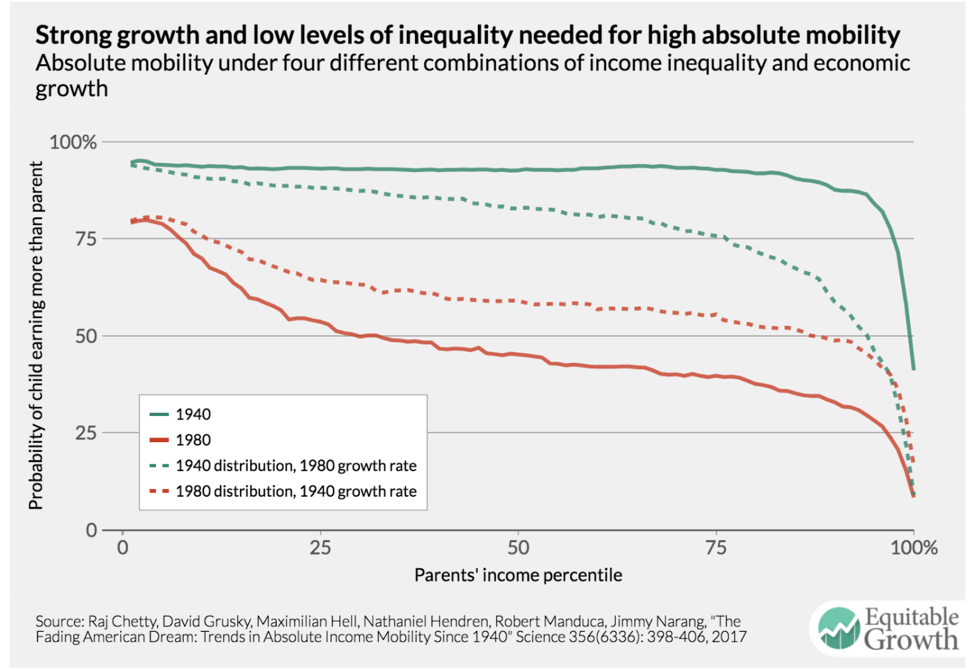 Figure is from Equitable Growth's, "The importance of equitable growth for future mobility in the United States"