Weekend reading: A closer look at skill-biased technological change, carbon taxes, and more
This is a weekly post we publish on Fridays with links to articles that touch on economic inequality and growth. The first section is a round-up of what Equitable Growth has published this week and the second is work we're highlighting from elsewhere. We won't be the first to share these articles, but we hope by taking a look back at the whole week, we can put them in context. 
Equitable Growth round-up
The theory of skill-biased technological change is often used to explain the current rise in income inequality. But what about the differential rise in the very top incomes across countries? As Matt Markezich explains, "a purely technological explanation cannot explain all of the variance in the change in top incomes across rich countries."
Environmentalists in the United States have long been proposing a carbon tax—that is, a tax on the carbon contents of goods and services—to fight the carbon dioxide emissions that are increasing greenhouse gas levels and in turn worsening climate change. What does all that have to do with equitable growth? Kavya Vaghul breaks it down.
New Hampshire's median wage for full-time workers is $20.38 an hour, which ranks 13th among U.S. states. But the state also has the lowest minimum wage in the country, at $7.25 an hour. Ben Zipperer explains why New Hampshire has more opportunity now than most other states to raise the minimum wage.
Links from around the web
It's time to rethink higher education and inequality. Rachel Cohen interviews Equitable Growth's Marshall Steinbaum on this topic, with a focus on the student debt crisis, the "skills gap" narrative, segregation in higher education, and more. [american prospect]
The more education someone has, the higher their lifetime earnings will be on average. As such, many see increasing college education as a way to fight poverty and income inequality and improve social mobility. Brad Hershbein, however, shows that those who are raised in or near poverty end up seeing a lesser return on their college degree. [brookings]
"What if simply throwing more money at schools actually is a reasonable approach" to improving them? That's the question Jordan Weissmann asked this week, citing two recent studies showing a positive relationship between more primary and secondary public school funding and increased student achievement. [slate]
When Federal Reserve Chair Janet Yellen gave her semiannual testimony on Capitol Hill earlier this month, multiple lawmakers reminded her that the U.S. economic recovery hasn't extended evenly across racial lines. Ylan Q. Mui delves into the "complicated relationship" that the Fed has with race. [wa post]
Across the globe, there's a clear disparity between how men and women spend their time. While men spend more of their time working for money, women do more of the unpaid chores such as cooking, cleaning, and child care. Claire Cain Miller explores this imbalance across countries. [ny times]
Friday figure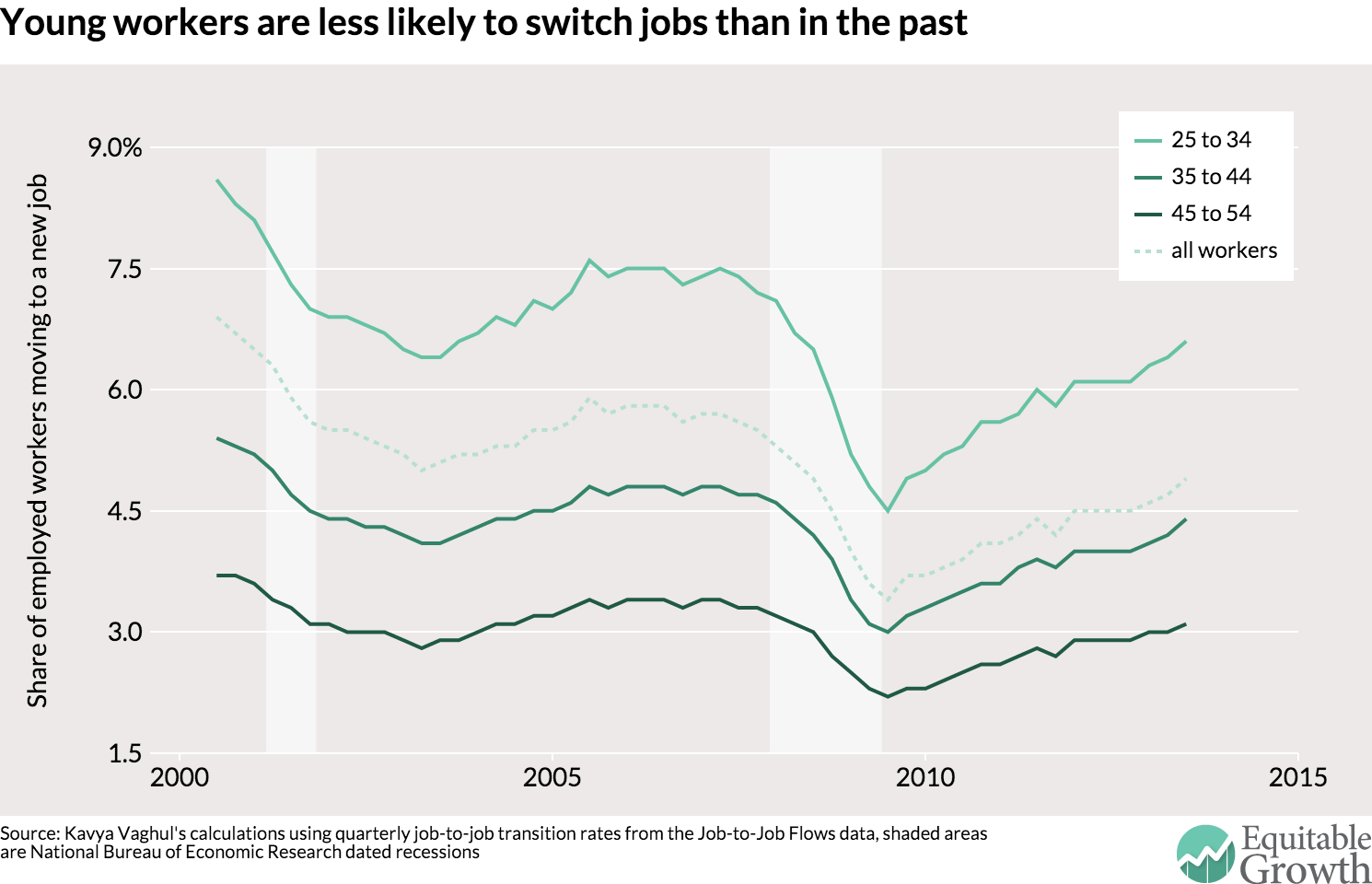 Figure from "Why it'd be nice if the 'job-hopping' Millennial story were true" by Nick Bunker.