New analysis finds African American and Latino population disproportionately impacted by student debt crisis
Geography of student debt delinquency mirrors geography of minority populations across U.S.
(Washington, D.C.) – Today, the Washington Center for Equitable Growth released the second installment of the Mapping Student Debt project, illustrating that the geography of student debt delinquency is highly racialized. The first installment released this past December suggests—counterintuitively—that communities with lower levels of debt tend to experience higher levels of delinquency. Mapping Student Debt is the first project of its kind to display maps of student debt loads and delinquency at such a granular level.
The analysis is made possible through a data partnership with Generation Progress and Higher Ed, Not Debt, a project of the Center for American Progress.
"Looking nationally, we see that race has the greatest impact on delinquency in middle-income zip codes," says Washington Center for Equitable Growth research economist Marshall Steinbaum. "These data tell us that debt-financed higher education is not the solution to racial inequality, since it doesn't overcome longstanding economic disparities. It may even be contributing to the problem. The fact that, among minorities, the middle class is most strongly affected by delinquency implies the problem is structural racism within the U.S. higher education system, credit and labor markets, and the distribution of wealth—not poverty‪."
Mapping Student Debt analysis and interactive heat maps exploring delinquency rates, average loan balance, median income, and the geography of African American and Latino populations at a zip-code level is available at http://mappingstudentdebt.org/#/map-2-race
"Student debt is a racial justice issue," said Maggie Thompson, Executive Director of Generation Progress. "These maps further demonstrate the need for our leaders to take action on student debt.  This debt is a drag on our economy overall, but these maps show us how much it is affecting local communities, especially communities of color, who must finance their education with debt."
In the Washington, D.C. metro region, for example, zip codes in the northeastern part of the District of Columbia and east of the Anacostia River and adjacent suburbs—all of which have the largest shares of African Americans and Latinos—also have delinquency rates that range from somewhat high to extremely high. The same pattern holds in Los Angeles, where high rates of delinquency correspond to areas with large African American or Latino populations.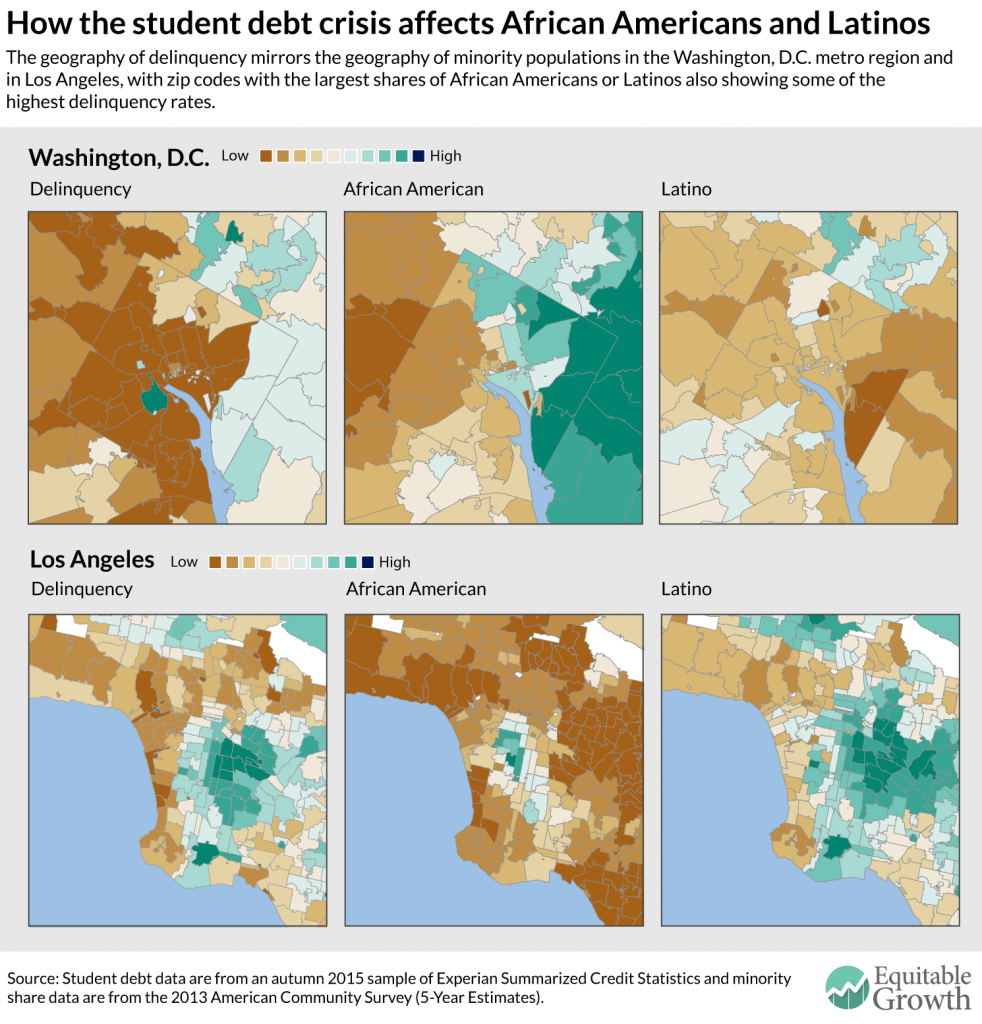 A column highlighting the methodology of the research and further analysis by Equitable Growth research economist Marshall Steinbaum and Equitable Growth research analyst Kavya Vaghul is available here. 
###
The Washington Center for Equitable Growth is a research and grantmaking organization founded to accelerate cutting-edge analysis into whether and how structural changes in the U.S. economy, particularly related to economic inequality, affect growth. Core to our mission is helping to build a stronger bridge between academics and policymakers so that new research is relevant, accessible, and informative to the policymaking process. For more information, please visit equitablegrowth.org.
Generation Progress, the youth division of the Center for American Progress, is a nonpartisan organization that works with and for young people to promote progressive solutions to key political and social challenges. Through programs in activism, journalism, and events, Generation Progress engages a diverse group of young people nationwide, inspires them to embrace progressive values, provides them with essential trainings, and helps them to make their voices heard on important policy issues. Launched in 2005 and formerly called Campus Progress, we support national and local advocacy campaigns; run a daily web magazine for young progressives; support student publications on more than 50 campuses; and have held more than 900 public events. For more information, please visit genprogress.org.