Medicaid's financial benefits are larger than previously thought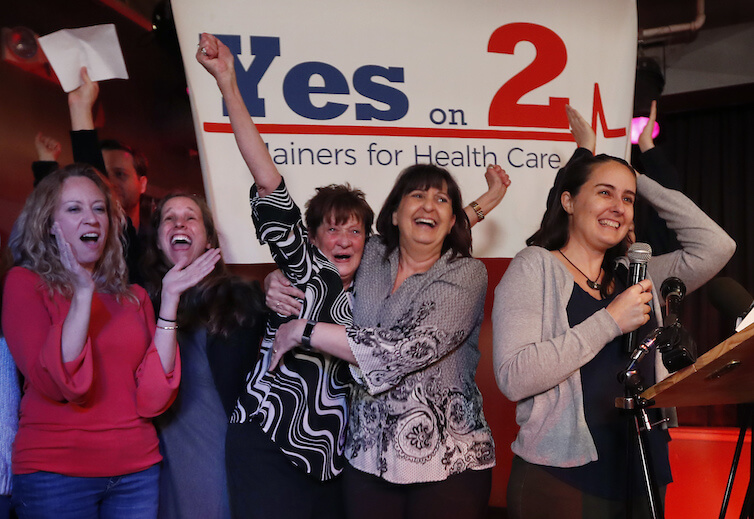 Given the costs associated with out-of-pocket health expenses across the United States, it's no surprise that Medicaid can have a significant impact on the financial health of American families. But new research looks at the extent to which Medicaid has indirect benefits on household financial well-being as well—in the form of expanded access to credit. The new paper released last week by Kenneth Brevoort of the Consumer Financial Protection Bureau, Daniel Grodzicki of Pennsylvania State University, and Martin Hackmann of the University of California, Los Angeles, documents how the reduction in unpaid medical bills led to a sizable boost in credit access, making Medicaid's financial benefits double that of previous estimates.
Throughout its history, eligibility for the joint federal-state Medicaid program primarily covered low-income children and their parents, as well as those with disabilities. The passage of the Affordable Care Act expanded the scope of the federal piece of the program, providing states with the money to enable Medicaid to cover any adult earning less than 138 percent of the poverty line, or about $16,000. At least, that was the intention. While the Medicaid provision of the ACA was originally intended to be a nationwide mandate, a later Supreme Court decision allowed states to decline the additional federal funding. Today, 18 states have not expanded their Medicaid programs.
Those state decisions enable researchers to assess the effectiveness of Medicaid. By comparing states that expanded their Medicaid programs in 2014 to those that did not, Brevoort, Grodzicki, and Hackmann's research found that Medicaid expansion reduced the incidence of newly acquired medical debt by 30 percent to 40 percent overall, adding up to a total $3.4 billion in savings two years after the reform was enacted. For individuals who were newly covered by the program, this translated to $900 annually. It is well-documented that Medicaid-expansion states saw an increase in coverage and improvements in self-reported health outcomes. But this new paper demonstrates that families also experienced improved financial well-being due to a decline in medical bills.
While the reduction in household debt is an important aspect of Medicaid's financial benefits, it is not the only one. Considering the ways in which unpaid debt tarnishes families' financial health, there are even broader implications for economic well-being. Other research establishes how, in the United States, the uninsured pay only 20 percent of out-of-pocket medical costs, leaving 80 percent of their medical bills unpaid. Some hospitals and care providers absorb the rest of the costs, but if they do not (which is often the case), then the balance is sent to third-party collection agencies and reported to credit bureaus, directly affecting credit scores and individuals' financial health overall.
The reduction in debt, therefore, can mean immediately better financial health and improved outcomes down the road. Brevoort, Grodzicki, and Hackmann underscore those findings by looking at delinquency rates, which are remarkably lower following the expansion, especially for consumers with subprime credit scores. People in the states that expanded their Medicaid programs under the Affordable Care Act also received more offers of credit and at much better terms compared to those in states that did not. The authors documented major savings due to lower annual interest rates, with an average of about $280 per year for those who were newly eligible for Medicaid.
Brevoort, Grodzicki, and Hackmann find that the financial benefits of Medicaid double once you consider the indirect factors combined with the reduction in out-of-pocket spending They note that they view this estimate as conservative "since it ignores other benefits, including a reduction in hassle costs of collections and legal actions." Access to credit is crucial to economic well-being and prosperity, whether that's buying a home, starting a business, or taking out a loan to help finance a child's education.